"A great father and a real gentleman"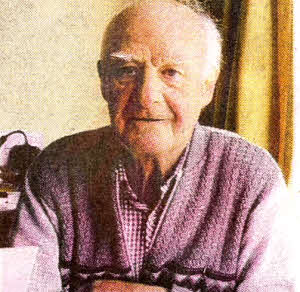 TWO men gave emergency CPR to an 82-year-old man who suffered a heart attack on Monday, when he fell to the ground at Glebe Road in Dunmurry just yards from his home.
The men had been at a local car business when one noticed pensioner Tommy McFarland out walking his dog Becky in the snow. When he fell down both men ran over to give him aid.
When they rang the emergency services they were told to follow instructions and wait for the ambulance. The ambulance arrived within six minutes and the paramedics worked on him for up to 20 minutes.
A post mortem examination found the cause of Mr McFarland's death was coronary artery atheroma.
His daughter Jean Donald said the family would like to thank everyone who tried to help save her father.
"We are very grateful to the two men who came to his aid," she said. "One, we were told gave him CPR. Paramedics also helped.
Everyone did what they could to help him.
"Some people have said that the fall caused the heart attack, but if you have a heart attack you will fall anyway. I don't know what came first. The post mortem has come back to say he suffered a heart attack."
She said the retired chief petty officer was always a 'fit, healthy and as a bright as a button.'
"His mind was sharp as mine," she said. "He lived on his own with his dog Becky. His wife Anne died four years ago.
"He loved walking the dog and would often go to the Green then on to Lady Dixon Park.
"His dog Becky was the love of his life, she was great company for him. He would walk her three times a day in the summer' and twice in the winter because he did not like to go out in the dark."
She said that the death has come as a complete shock for the family.
"He was always happy and content and never complained about anything and was happy
with his life," she said. "His love was gliding and he had been a member of the Gliding Club for over 20 years."
Jean added: "I will best remember him as just a great father and a real gentleman."
Tommy is survived by three children, Jean, David and Philip who lives in Canada.
His funeral will be held at Elmwood Brown at 11.00am on Monday and afterwards at the Crematorium in Roselawn.
Ulster Star
24/12/2010