Well known businessman Tommy passes away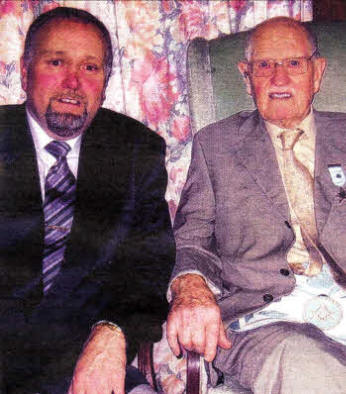 Tommy with his nephew Neil Gilmore when he received his 50 year medal from the Masonic.
WELL-KNOWN local businessman Tommy Walker passed away in Oakridge Care Home in Ballynahinch on December 3.
Tommy was born in 1921 and was raised on the family's small farm at Lany Road, Flatfield. He attended St. James' School and was a member of the congregation at St. James' Parish Church.
After leaving School in his early teens, Tommy worked at home and at neighbouring farms. When war broke out he went to work in the aircraft factory in Belfast and it was there that he increased his knowledge in all things mechanical.
Tommy unfortunately lost both his parents in his mid-teens, and it was shortly after that that he met his future wife Ellen Jane Thompson, affectionately known as Nell, who was from Young Street, Lisburn.
After a year or so they decided to marry and lived for a couple of years in Lisburn. Tommy and Nell would often be seen riding back and forth from Lisburn to Flatfield on a tandem bicycle to attend to the livestock and look after the home farm. Being a bit of an entrepreneur, Tommy and Nell decided to make some extra money by selling eggs and country butter door to door over the Co. Down in Lisburn, after a while they gathered enough money together to build a bungalow which Tommy and Nell shared until her death in 1982.
In the late 50's Tommy saw an opportunity to start up a car sales business as there were a shortage of cars so he imported cars from the South into Northern Ireland. He quickly prospered and developed the business, which became widely known as 'Flatfield Cars'. Tommy was well-known by those at the Ulster Star, having advertised in the first edition of the paper in 1957. The business carried on right up until Tommy had a stroke in his 85th year.
Tommy made many good friends through the car trade, especially Cyril McFadden and Tom Leathen, who remained close to him up until his death.
Most Saturday's he could be found in Lisburn Golf Club enjoying a meal and having a bit of chat with friends. Then on a Sunday it was either the Bronte Steak House or Dunadry Hotel.
Due to failing health, Tommy spent a period of time in the Lagan Valley Hospital and was then transferred to Annahilt Residential Home and then onto Oakridge Care Home in Ballynahinch where he passed away.
Ulster Star
24/12/2010