Tractor and machinery tour group pays a visit to
Harry Ferguson memorial garden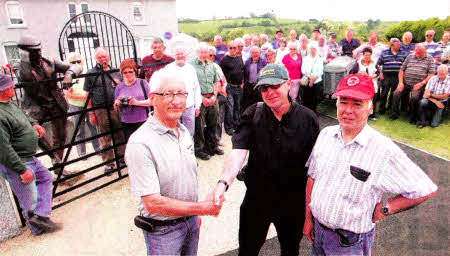 Bill Forsythe and Eric Jess of the Harry Ferguson Memorial Committee welcome Peter Love of Tractor Magazine and tourists to the Harry Ferguson Memorial Garden- US3010-105A0
TRACTOR and machinery tour group GB arrived at the Harry Ferguson Memorial Garden on Monday July 26.
This well known tour association' led by editor and tour guide Peter Love' were touring the Ring of Ireland and attended many Vintage tractor events all over Ireland including museums and places of interest.
The local Dromore group Harry Ferguson Celebration Committee were indeed delighted to greet the tour and offer a brief history and guided tour of the memorial garden and of course the bronze lifesize statue of Harry himself.
A spokesperson for the Committee said: "It was a great delight to show off the new tourist attraction at the Ferguson Homestead at Growell Dromore. "More than 50 visitors arrived by coach at 3pm and they were from England' Scotland' Wales and as far as Tasmania.
"All of course signed the visitors book which resides at the Homestead and after buying some' of the limited edition Ferguson merchandise on site off they went to Belfast to stay over and visit the Ulster Folk & Transport museum the next day. "This is just one of many tours and visits from enthusiasts and people on holiday that attend the Ferguson Memorial garden.
We are proud to be on the Tourist Board list of places to see."
The local Celebration Committee will hold their annual tractor road run on Friday August 20 at 7.30pm and the annual event on Saturday August 21 at the Homestead. This year will display Ferguson tractors through the years from 1936 to 2010.
Ulster Star
30/07/2010