Moira dad passes halfway mark on US cycle challenge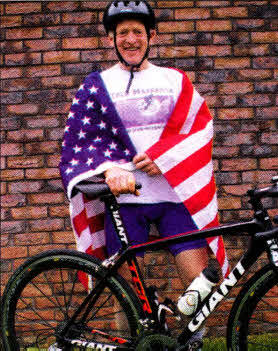 A MOIRA father who has been busy cycling 4,500 miles across the United States to raise money for Northern Ireland children's cancer charities in memory of his daughter is now over halfway across the continent.
Mark Kelly began his epic journey on June 8 in Astoria, Oregon on America's West Coast and has so far cycled over 2,500 miles, with just under 2'000 left to go.
The local man has pedalling in memory of his daughter Margarita, 20, who lost an eight-year battle with cancer in June last year.
Trek Margarita began one year after her death and supporting Mark for the whole of this maracycle if his close friend Roy Kennedy but they will be joined by a team of 23 part-time cyclists on different legs of this coast-to-coast journey.
The day before departure Mark fell off his bike and broke his shoulder while fellow cyclist Brian Henry's trek was nearly over before it began as he crashed into a stationary car in training and was catapulted through the back windscreen with fortunately no more than a few cuts and a bruised ego. However such obstacles are easily overcome when the team remember the courage and determination showed by Margarita.
The Trek will conclude in Narrangesett' Rhode Island on August 6 with the team hopefully having raised their target of £50,000. This money will go toward supporting Margarita's charity legacy with donations going to Shine a Light, MacMillan Cancer Support, Cancer Research, Royal Victoria Hospital — Children's Haematology Ward and Northern Ireland Children's Hospice.
Donations can be made online by going to www.justgiving.com/trekmargarita. Aiteernatively, anyone wishing to donate can send a cheque, made payable to Trek Margarita to Trek Margarita, 68 Laney Road, Moira, Craigavon, BT67 ONZ. You can also keep up to date with Mark's progress on www.trekmargarita.com.
Ulster Star
23/07/2010