A vision for the future of Lisburn is launched by DSD minister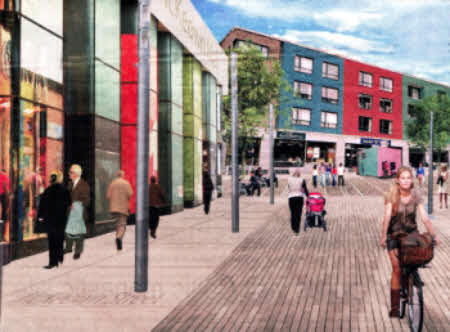 How McKeown Street could look once the masterplan is implemented
THE MINISTER for Social Development, Alex Attwood, unveiled a blueprint for the future development of Lisburn on Thursday (September 2).
The Lisburn Masterplan aims to transform the physical, social and economic fabric of the city.
The objectives for the future regeneration of Lisburn which are laid out in the document launched include:
rejuvenating the historic Market Square as the heart of the City Centre;

investing in a high quality public realm to support private investment in the City Centre;

reconnecting the City Centre with the River Lagan and

creating a portfolio of development opportunity sites to help attract inward investment.
Future
The Masterplan is being supported by a major Transport Study, also launched on Thursday, which has examined the future development of the transport system in the greater Lisburn area.
"The regeneration of Lisburn's city centre has a pivotal role to play in its future economic success," said Mr Atwood.
"The masterplan along with the transport study will guide development and ensure that Lisburn is able to compete with other major towns and cities while maintaining its distinctiveness and environmental heritage for generations to come."
The Minister continued: "Revitalising the city centre and attracting future investment whilst retaining its uniqueness is key to Lisburn's long term shopping, business and tourist appeal.'
The masterplan was funded by the Department for Social Development.
The proposals contained with the document launched today were finalised after a period of public consultation in late 2009 and early 2010 on draft proposals.
The Transport Study was jointly funded by Department for Social Development and Lisburn City Council.
The Minister was joined by representatives of Lisburn City Council and Lisburn City Centre Management who worked jointly with GVA Grimley Consultants to prepare the final masterplan.
Lisburn Mayor Alderman Paul Porter, welcomed the Minister to Lisburn and thanked him for the Department's support.
He said: "I can see a wonderful opportunity for us to be very positive about our future.
"It is important that Lisburn develops further as a strong and regionally significant city offering a range of high quality facilities and attractions for investors and visitors alike."
Councillor Jenny Palmer, Chairman of Lisburn City Council's Economic Development Committee added: "This innovative Masterplan provides the Council with the platform to attract and co-ordinate private investment to the City that will be crucial in the efforts of the Council and its partners to secure the City Centre's economic future.
"We must continue to work together with the private sector and the Department to implement the Masterplan recommendations and ensure Lisburn attracts development to deliver an attractive environment along with new and improved commercial properties, new homes and an enhanced range of jobs for the benefit of the whole of Lisburn and the surrounding area."
julieann.spence@ulsterstar.co.uk
Ulster Star
03/09/2010