WATER MISERY
Thousands across the city suffer after thaw brings days of hardship
by JULIE-ANN SPENCE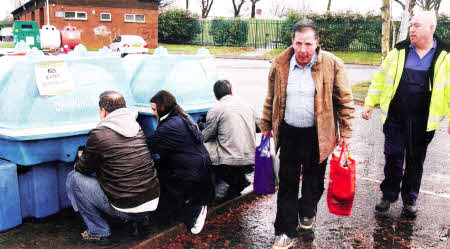 Emergency water stations at Lisburn Leisureplex brought some relief for local residents who were without water for days following the thaw which burst pipes in hundreds of homes across the city.
HUNDREDS of home owners across Lisburn endured a wet and miserable Christmas after record breaking sub-zero temperatures and the subsequent thaw caused water pipes to burst.
The milder weather has led to an unprecedented surge in bursts around the city as frozen water in pipes melted to bring havoc and distress for many families - some without toilet and wash facilities for 14 days. NI Water said that there has been a slight reduction in the number of properties with no water and that the supply of water has been increased from 600 million litres per day to 850 million litres per day.
However, a spokesperson added that water levels in reservoirs remains low due to the high number of burst pipes on private and commercial properties. On Wednesday water collection points were set up at Lisburn Leisureplex, Hillsborough Village Centre and in Dromara, Anahilt and Dunmurry.
The Leisureplex also opened to allow local people to avail of their showering facilities.
Lisburn City Council also made arrangements to collect bottles of water that had been shipped over to Northern Ireland on Thursday from Scotland and distribute them to nursing homes in the city that had no mains water supply.
Lisburn Mayor, Alderman Paul Porter said that serious questions needed to be asked of NI Water but that for now the most pressing issue was to ensure that people had access to water supplies.
This has been a major crisis," said Mr. Porter. "When these issues are resolved serious questions need to be asked at a senior level in N1 Water with regards to the handling of this situation.
For now though people don't want to know who is to blame, they want someone to help. I thank all the elected representatives and council staff who have worked hard to ensure that people in Lisburn have access to water.
"The handling of this has been atrocious and the flow of information from NI Water has been appalling. No one could get through to their helpline and it has taken too long for them to start working with us. It is thanks to one senior NI Water official, who lives locally, that we eventually got some water supply in the city," he continued.
Lisburn City Council will continue to provide updates on the water situation on its website www.lisburncity.gov.uk. For information on water, in general log onto www.niwater.com or contact 08457 440088.
| | |
| --- | --- |
| | |
| Filling up at the water station set up at Salto Gym in the Leisureplex. | The water station in Lisburn was a welcome sight for many. |
---
Politicians critical of NI Water response
LOCAL politicians have criticised NI Water for their slow response in dealing with the water crisis and were particularly critical of the lack of information provided to the public by NI Water.
Environment Minister Edwin Poots said the response from NI Water was unsatisfactory. "I would however commend individuals who stepped up to the plate on Tuesday and Wednesday to ensure fresh water supplies were installed in the Lisburn area.
"There will be lessons that will have to be learnt as a result of this, not just for NI Water but also for the Housing Executive, who has numerous problems in the run up to Christmas with families in homes with no heating.
"While the weather we had was unprecedented, nonetheless we need to ensure there is a degree of pro-activity best suited to respond to the problems families find themselves in."
Lagan Valley MR. Jeffrey Donaldson has called on the Assembly to bring forward proposals to prevent a similar situation occurring in the future. "I am deeply disappointed with the lack of communication from NI Water throughout this period," he said.
"Members of the public have found it almost impossible to speak to anyone in NI Water and any information that had been available is very vague and lacking in significant detail.
"There are lessons that need to be learnt from all of this and it is vital that the Assembly discusses the issue and brings forward proposals to prevent this kind of fiasco in the future."
Lagan Valley MLA Jonathan Craig said the situation in Lisburn was "disastrous".
He continued: "While I can appreciate the huge demands being but on NI Water to cope with the unprecedented number of leaks in the system I cannot understand their very poor response."
Lisburn Councillor Cecil Calvert said the response to the crisis illustrated the "inability of the Stormont Executive to deal with things in a joined up fashion."
He went on to say: "If this had happened during direct rule both Sinn Fein and the DUP would have been squealing in condemnation in lambasting those in charge."
Mr. Calvert also said that money spent on cross border agencies and new cross border roads could have been spent on the local water infrastructure instead and added that the DRD Minister, Conor Murphy should "consider his position."
Councillor David Archer added: "I have been inundated with calls and contact through social media during this crisis.
"The plight with which NI Water have left people in Lisburn facing, particularly after the sub zero temperatures we encountered before and during Christmas is totally unacceptable and as far as I'm concerned heads must roll for this fiasco at NI Water."
julieann.spence@ulsterstar.co.uk
Ulster Star
31/12/2010