Tributes are paid to a much loved entertainer
by MARY MAGEE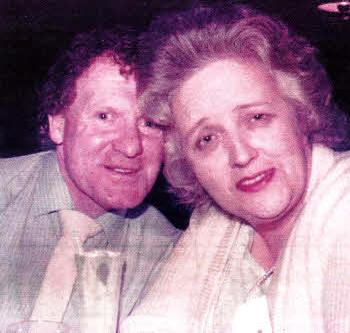 'FLAMBOYANT, outrageous with infectious energy' - that is how many will remember well known entertainer Wilfie Higginson who passed away last Tuesday, October 12, aged 74. But his family will best remember him as a hard working father who loved life and a laugh.
The father-of-four from Roseville Gardens died at Craigavon Hospital from complications related to diabetes.
He attempted to live a full life, but never really got over losing two of his children in separate road accidents eight years apart. Siobhan (30) was killed on the A1 in November 17 1999 while son Clinton (44) died on the Saintfaeld Road in April 22, 2007. Born William James on November 18, 1935 he was known best as just Wilfie.
According to family he got the nick-name while growing up in Young Street. A neighbour who had never had children told the family if she ever had a child she would have named him Willie, and the name stuck. His father - who ironically also died at Craigavon Hospital at the age of 74 - also called him Wilfred.
He attended Central Primary and as a schoolboy became an International footballer. While playing for Ireland against England he lined up against Duncan Edwards, who was killed in the Munich Air Disaster.
During his footballing career he played for Crusaders and Ballymena United and was a devout Spurs fan. Later in life he loved to watch cricket and football on television.
He married Heather in August 1958 and had four children. Wilfie held down many day time jobs including woodmachinist, taxi driver, postman, milkman and along with his son worked as a binman with the council.
He began singing in bands after friends heard him criticising other bands. They told him to put his money where his mouth was and start a band.
He did just that and among his many bands were Pride, Pride and Wilfie, Tumbling Dice and the Keynotes. As he got more popular he was just known as Wilfie and sang waltzes and cover versions of chart hits.
He loved to get the crowd laughing by riding on stage on a child's bike holding a stick and singing a cover of Ian Dury's 'Hit Me With Your Rhythm Stick.'
But off stage he also liked to make people laugh - usually deliberately but sometimes inadvertently.
Once when travelling to one of the gigs, the back door of the van flew open and Wilfie attempted to grab it to close. However the door fell off with him hanging onto it and landed in the middle of the M2. He escaped with minor cuts and bruises.
He became so well known that when he went to Bahrain for a week long gig he was recognised by someone who asked him 'Are you Wilfie from Lisburn?'
He was once scouted to go professional but refused because of his love for his family and his day time jobs.
But he did work for a time in Blackpool and the Isle of Man in working men's clubs. At one stage his band supported Ian Dury and the Blockheads when they played at the Ulster Hall.
He left the entertainment circuit eight years ago and was later diagnosed with Alzheimers and diabetes. In April he went into a nursing home in Moira where he was visited daily by his only sister Muriel and family. Son Paul said he will have many fond memories of his father.
"We worked together during the day and then I would have brought him to gigs. He was a hard worker and so energetic. He worked as a bin man when you had to carry bins on your shoulder but that didn't not bother him. If there was any fun he was always in the middle of it. At the gigs there was so much carrying on you just never knew what he was going to do. People couldn't get enough of him."
Daughter Jackie Sands remembers how she would have to take her father shopping in Lisburn to get the most outrageous costumes possible. "He just loved to make people laugh and was great fun and loved people, and people loved him."
His funeral last Friday was at Bobby Morrisons and he was buried along with Siobhan at Lisburn New Cemetery.
Ulster Star
22/10/2010