Young Farmers hold first road safety event in Hillsborough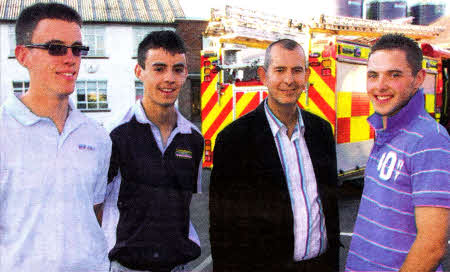 Environment Minister Edwin Poots, MLA and members of Hillhall Young farmers' Club.
THE Young Farmers Club of Ulster recently held their first event of their new rural road safety campaign at the AFB1 Research Centre in Hillsborough.
The campaign is aimed at 16-25 year olds and the Hillsborough event was for YFCU members in Counties Armagh and Down.
The evening kicked off with a simulated road traffic collision rescue demonstration by the Fire and Rescue Service supported by volunteers from the British Red Cross. YFC members from Annaclone and Magherally and Spa played the part of casualties which proved a powerful way of bringing home the reality and carnage that road traffic collisions can cause.
This was followed by a thought provoking presentation by PSNI Road Policing Branch led by Superintendent Muir Clark who said: "I am pleased the YFCU are encouraging their members to
exercise caution on the roads. The stark reality is that the majority of road traffic collisions are avoidable. Cars don't cause collisions... roads don't cause collisions... people cause collisions.
"Excessive speed for the conditions is still the most common single cause of fatal and serious injuries on roads in Northern Ireland, followed by the consumption of alcohol or drugs by drivers or riders and inattention or diverted attention.
"Each collision, death and injury is entirely preventable, so we make absolutely no apology for adopting a robust approach to enforcement.
"We all have a role to play in preventing deaths and injuries on our roads. All we ask is that drivers slow down, do not drive after drinking or taking drugs, wear a seatbelt and drive with greater care and attention."
Environment Minister, Edwin Poots, who helped launch the campaign earlier in the month also attended the event and he was joined by Lagan Valley and South Down MLAs Basil McCrea and John McCallister, a past president of the YFCU.
Mr McCrea also praised the YFCU for their campaign. "Without a doubt, our young people are the most vulnerable on the roads," said Mr McCrea. "The YFCU's campaign is a running start in the right direct for the promotion of road safety and reduction of accidents that could leave otherwise healthy and happy young people with drastically altered lives or worse."
Ulster Star
03/09/2010