Young Saintfield designers showcase their GB creations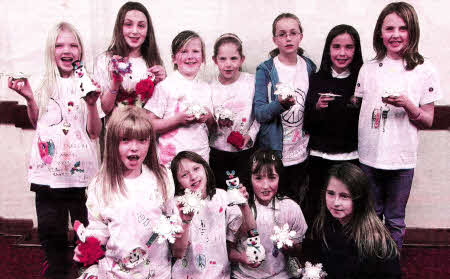 The girls in the Junior section at 2nd Saintfield Presbyterian and Parish GB show off their designer t-shirts and Christmas candle craft creations.
A TALENTED group of young Saintfield fashion designers recently had the opportunity to model their own t-shirt designs to 'Ginger Jay Fashion House' owner Jayne Crosby.
The Junior section at 128th 2nd Presbyterian and Parish Girls Brigade in Saintfield were given the task of designing their very own individual t-shirts using a range of materials provided to them. They were guided through the exciting challenge by section officer Rosemary Fennell who worked with the girls throughout the GB sessions in October and November.
The group of 11 girls are all aged between 9 and 11 and each one designed a t-shirt using
their own imagination and ideas. The t-shirt task forms part of the badgework element of the Girls Brigade programme.
Jayne from 'Ginger Jay' in Saintfield kindly agreed to come and judge the t-shirts. The girls practiced their modelling techniques before strutting their t-shirts up the catwalk.
Rosemary Fennell, Junior section officer said: "It was amazing to see all of the girls getting so involved in the task from start to finish. Each girl was so enthusiastic about what they had been asked to do and took a lot of pride in their unique design. The final t-shirts looked fantastic and I am very proud of each and every girl in the Junior section. Modelling their own design to Jayne really boosted their confidence."Jayne praised each girl on their t-shirt design, individuality, use of images, words and materials and confidence when modelling their piece.
Jayne was a real inspiration to all the girls who could see real merit in their own work and that of their friends. The captain and officers of 2nd Saintfield Girls Brigade would like to congratulate the girls on all their hard work and thank everyone who got involved in this fashion task — the girls and their enthusiasm throughout the process, parents who supported the girls and encouraged them to use their imagination in the design and to Jayne Crosby for giving up her time to work with, judge and encourage the girls.
Ulster Star
31/12/2010