Family raise £11,000 for Action Cancer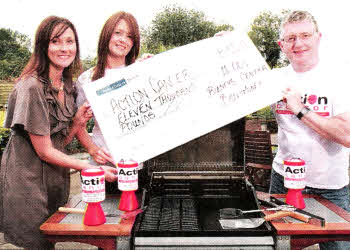 Kerry Anderson from Action Cancer, Carmen Biesty and Glenn Biesty with a cheque for £11.000.
A BROTHER and sister from Crumlin, who lost their father through cancer earlier this year, have raised £11,000 for Action Cancer.
Glenn Biesty who now lives in Coleraine and his sister Carmen travelled to China in June to trek along the Great Wall of China for Action Cancer.
However when they had finished the first day of the challenge they received the sad news their father Kevin had become poorly and the pair were forced to return.
Kevin was diagnosed in May, 2010 with bowel cancer and it was then that father of three Glenn and his sister who lives in Edinburgh got together decided to do the trek around China in the summer.
Glenn who runs the Centra store in Ballymoney organised fundraising events at his Centra store that he runs in Ballymoney and the pair opened up a Just Giving account.
They also organised a barbeque on April 30 at their family home in Crumlin where around 300 people attended.
When they left for the trek on June 3 their father was taken to hospital with a high temperature.
However on Sunday after they completed the first day of the trek Glenn spoke to his wife Angela who told him that his father was in intensive care at Antrim Area Hospital.
Glenn and his sister returned home on Monday and was told that their father was suffering from pneumonia and sadly passed away some days later on June 16. Glenn and Carmen still hope to complete the trek next spring but decided the money they had already raised from a fundraising barbecue in April should go to Action Cancer now.
The Biesty family is well-known in the Crumlin area. Glenn and his sister chose to help Action Cancer because Glenn owns the Centra store in Ballymoney and Action Cancer and Centra have had an award-winning partnership since 2003, to advance the local cancer charity's health promotion service for schools and colleges and reduce cancer risk among young people. Glenn said said they were grateful for the support they have received. "We are really pleased with our fundraising for Action Cancer and being able to give the charity
£11,000 for their life-saving work is one of the most satisfying things we have ever done," he said.
"Of course none of this would have been possible without the huge generosity of local people to our fundraising appeal. We'd like to thank everyone who supported it."
Ulster Star
09/09/2011