Packed meeting hears action on drugs is priority for Knockmore residents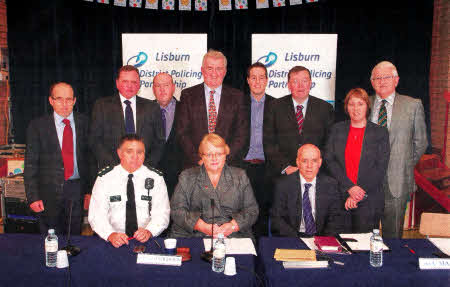 Representatives of the Lisburn District Policing Partnership who attended the recent public meeting at Knockmore Primary School.
OVER 70 people have attended a public meeting of Lisburn District Policing Partnership in Knockmore to discuss crime in the area. And the main issues raised was the prevalence of drugs in the community.
Many parents were at the meeting to voice their concerns about drug dealing and taking in the area and to call for strong action to tackle the issue.
The meeting in Knockmore Primary School was attended by senior police, along with the local Housing Executive manager, local MLA Paul Givan and councillors representing the local area.
Lisburn's PSNI commander, Chief Inspector Darrin Jones, told the meeting that from April 2010 to October 2011, a total of 453 offences had taken place in the Knockmore area which included: antisocial behaviour, criminal damage, theft, drugs, burglary and offences against the person with a further 160 calls made to the police for advice or information.
During the summer months an increase in antisocial activity was recorded involving both adults and young people with many of those incidents being fuelled by alcohol.
DPP Chairperson, Councillor Margaret Tolerton said: "This was a highly emotive meeting, with mothers of young children in attendance to voice their concerns about drug dealing and drug taking in the local community; and the impact it could potentially have in the long term.
"It was startling to hear of the number of incidents reported in the Knockmore area and also the personal experiences of those who attended the meeting. As DPP Chairperson I am very concerned about the issues raised and will be liaising with Chief Inspector Jones about specific actions that could be taken in the Knockmore area to address the issues raised."
Mrs. Tolerton said the meeting tried to encourage residents to have their voices heard on not only policing issues but also on housing related issues as the Area Manager of the Housing Executive, Owen Brady, was in attendance.
"The police service reiterated its commitment to a partnership with the Housing Executive to share
information about drug seizures that happen on Housing Executive properties to ensure that prompt action can be taken.
Emphasising how important it was for local people to report information to the police, Councillor Tolerton added: "It is vital that people report everything that they see and hear in relation to suspicious activity to the police no matter how minor or insignificant they think it is. The police do not know everything and rely on information both to target their resources to the right place and to build intelligence to secure convictions.
"Please report using the police non-emergency number 0845 600 8000 or through Crimestoppers on 0800 555 111. If it is an emergency, call 999."
Ulster Star
02/11/2011