Lisburn cadet Adam hits the right notes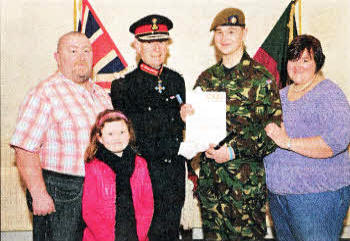 Joining Colonel Desmond in his congratulations for Adam Higginson are proud parents Brian and Dehra Higginson and sister Ellie (aged 7), all from Lisburn.
A TEENAGE Cadet from Lisburn has earned his BTEC in Music, with a certificate presented at a ceremony held recently at Lowfield Camp in Ballymena.
Adam Higginson was congratulated by Colonel Denis Desmond, Her Majesty's Lord Lieutenant for the County of Londonderry, who said: "I am delighted to showcase the achievements of Adam and other teenagers from this corner of Northern Ireland who have done a great deal to make their parents, schools and communities proud.
"These young people have brought their time, enthusiasm and talents to the Cadet movement, one of Northern Ireland's largest and longest established youth organisations, earning awards which reflect that commitment. The Cadet movement provides opportunities for young people from a diverse range of backgrounds to acquire new skills, develop their personal qualities and make friends. It is as relevant today as it was when it was first established with membership offering young people opportunities to become better citizens and live up to their personal potential. Importantly, it also creates opportunities for young people to socialise and have fun within a secure yet challenging environment.
"I congratulate Adam and add a sincere thank you to the Adult Instructors who give the time and support required to make it all happen for our highly motivated Cadets."
Ulster Star
16/12/2011