Inspirational Adam crowned National Nero
by MARY MAGEE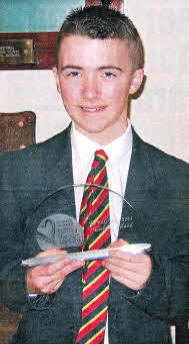 Adam Kerr with his National Hero award.
A BRAVE 12-year-old Moira boy who donated his bone marrow to his sister and continues to support his mother and brother through some difficult times was crowned the National Hero at the 4Children and Take a Break Magazine UK Family Heroes Awards 2011.
Judge Arlene Philips described Adam Kerr as an 'incredible young individual' - an inspirational young man who through his kindness, warmth and generosity has reached out and touched the lives of many youngsters and their parents.
Adam, now 12, was just six-years-old when he donated his bone marrow to try to save the life of his littde sister, Helen.
Unfortunately, Helen died a few months later but Adam showed real courage, staying strong for his mum and helping take care of his younger brother Brian, who has a life-limiting condition.
As well as supporting his family Adam has helped to fundraise for poorly children to try to help other families not to have to go through what he has.
Adam beat 11 other regional heroes and said: "I was really shocked to win. I was in a state of shock for an hour. When you hear of other people you believe that someone else needed to win. I am very honoured. It was very humbling for me to hear what all the other winners had done. Helping other people helps me cope with Helen's death. I help them but they help me too. Mum was sad that Helen's not here to see me win but I told her she is in our hearts."
His mother Gaye said: "There were people from all over the UK who were all very deserving winners. I kept telling Adam to just be happy he was there. We never expected him to win because he was competing against one person who raised more than £500,000 for charity, a woman who had fostered, a woman who spent all her time going out to feed the homeless, a 19 year old man who cares for his mum who is registered blind and helps other disabled and elderly people and a 20 year old who was not expected to live beyond the age of three, but now fundraiser for the Cystic Fibrosis Trust."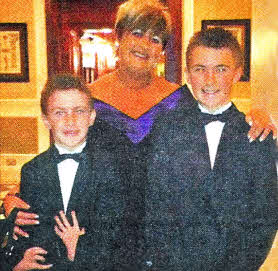 Adam and brother Brian and mum Gaye at the Awards.
The first Gaye even heard Adam had been nominated for the award was in June when she received a call from the organisers asking if she consented to him competing in the competition.
She was told someone had nominated him for all the support and help he has given to his family. In September the family heard they were invited to the finals at the Grand Coney Room in London.
A proud Gaye said that when Adam was interviewed by the judges he came across as 'fabulous.'
"He told them there was a lot more ahead of the family to deal with but he would also like to continue to help and support others," she said. "I will never ever forget that."
When Adam's name was announced as was overall winner there was not a dry eye in the house.
"We just all cried for Ireland," said Gaye. "When Brian was asked about Adam he said Adam should win because he was a very kind brother.
"When we were listening to all the other finalists' stories we didn't think for one moment he would win. I always thought other people's stories were much more humbling." Arlene Philips, Choreographer and TV Judge, said: "Adam Kerr is an incredible young man. In his relatively short life he has faced real sadness and adversity and yet he works tirelessly to make life better for others.
"We all have something to learn from this special individual and I am sure that everyone who reads his story will be touched by it." Mrs. Elizabeth Dickson, the principal of Friends' School where Adam is a pupil, said: "There is a great sense of pride in School that Adam's courage, kindness and generosity should have been recognised by this national award.
"Adam is now in Year 9 and plays a full part in the life of the School."
Teacher Ashea Bell commented: 'Adam is a lovely, caring, good natured boy who has a vibrant personality and great sense of humour. He gets along well with pupils and staff, always cheerful in his manner. He is very supportive of charity events held in School and sees them as a way to help others in need."
Adam said the first thing he wants to do with his £2,000 winnings is to buy his mother a Guess handbag. He has also given Brian £250 and will use the rest on a well deserved skiing holiday to Italy in February.
Ulster Star
09/12/2011