Jail term for driver who killed local teenager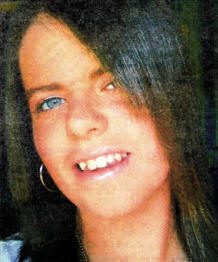 AN 18-month suspended jail term handed down to a driver after he knocked down and killed a 14-yearold Dunmurry High schoolgirl has been activated because he committed further offences.
Jailing 22-year-old Martin McDonnell at Belfast Crown Court, Judge Geoffrey Miller QC told him that although he was due for release in two weeks, he was jailing him for 18 months.
"I have no doubt whatsoever that the breach by you was a flagrant breach of the sentence I imposed and that it is my duty, and nothing less than my duty, to activate that suspended sentence and I see nothing in the circumstances placed before this court that would prevent me or would permit me, even if I were so inclined to do, to moderate that sentence even by one day," declared the judge.
He told McDonnell the "only concession" he would make was that the sentence would run immediately rather than consecutively from his present five-month sentence.
In November 2009, McDonnell, from Garnock in Belfast, walked free from court after he was given a suspended sentence for causing the death of 14-year- old Adele Whiteside by dangerous driving in September 2007.
The Dunmurry High School pupil was walking home from a friend's wedding and was crossing Finaghy Road South when the vehicle being driven by McDonnell ploughed into her so fast that her devastated friends described how she was flung into the air "as high as a lamp post" before coming to rest more than 50 metres away.
The teenager was pronounced dead at the scene and engineer's reports later estimated that McDonnell had hit her while travelling at. 47 mph in the 30 mph zone.
It was only on the morning his trial was due to begin that McDonnell finally pleaded guilty to causing Adele's death by dangerous driving. At that time the court also heard that eight months after the accident McDonnell was involved in a police pursuit when officers stopped him from hanging himself from a bridge on the M1 close to Craigavon. However, prosecution lawyer Rachel Quigley told the court that within 10 months of receiving the suspended jail term, McDonnell was the passenger in a stolen Subaru Impreza which was involved in a car crash.
She described how the driver of the mini-bus the car crashed into said the Impreza was "absolutely flying" along the Leathemstown Road in Dundrod when the accident happened on August 13 last year.
McDonnell and the driver fled the scene but were arrested at Lagan Valley Hospital where they reported with injuries and he later pleaded guilty to aggravated vehicle theft causing injury, criminal damage and obstructing police, for which he was handed a five-month jail term.
Defence lawyer Richard Green said there was most likely "an inevitability" about the suspended sentence being put in place but that the "only glimmer" was that he was a passenger and not the driver of the stolen Subaru.
In jailing McDonnell for 18 months, Judge Miller told him that when he imposed the suspended sentence: "I made it clear to you in the most stark terms that any breach... would inevitably lead to you being brought back before me and the implementation of that sentence." The mother of Adele Whiteside has said she is glad her daughter's killer is in prison.
Her mother Shirley said McDonnell should have been sentenced for longer but that the family feite relieved he is now in prison.
"If he didn't learn a lesson from killing my precious girl, then what is going to teach him, what sort of person is he? He needs to be locked up," she said. "I was a wee bit delighted that he got it, we knew he was going to be up again but with the luck he has, we weren't too hopeful that he would get it. I'm glad he is in prison now."
Ulster Star
02/09/2011