Alpha celebrates over £1,000,000 funding to local community groups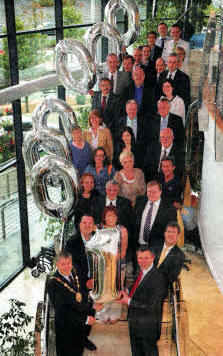 Mayor of Lisburn Brian Heading with Lyle Andrew, Alpha Resource Management and Lagan Valley MP Jeffrey Donaldson, as well as representatives from local community groups, celebrating the Alpha Programme allocating £1 million of funding to community & biodiversity projects through the landfill tax credit scheme. Photo by Aaron McCracken/ Harrison's
ALPHA Resource Management has announced that £1,000,000 has been generated through landfill tax credits from its operations at Mullaghglass Landfill site and to celebrate Lisburn Mayor Brian Heading hosted an event with representatives from local community groups.
"It is a privilege to be able to welcome everyone to Lagan Valley Island to mark this significant funding milestone," said Mr. Heading. "Each of the projects undertaken by Alpha Resource Management and Groundwork NI has contributed significantly to the communities which they are in. Community focused organisations play an important part in today's society and I welcome the continuing work of these two organisations to implement projects within the Lisburn area and Belfast."
Established in 2008 by Alpha Resource Management Ltd, the Alpha Programme distributes landfill tax credits to eligible projects located within a ten mile radius of the Mullaghglass landfill site in Lisburn. The programme is managed by Groundwork NI. The Alpha Programme passed its £1million landmark for awards in early 2011, supporting 37 projects across Lisburn and Belfast and surrounding areas. Groundwork NI has been working with various community groups to support their applications and implement and manage a diverse range of environmentally led projects ranging from biodiversity projects to community gardens as well as other community led physical regeneration schemes.
Lyle Andrew, Alpha Resource Management commented: "The Alpha Programme funding generated from our site at Mullaghglass has passed the £1 million threshold and has benefited over 37 community and biodiversity projects within a 10 mile radius around the site. We are delighted that our Company's contribution of over £100,000 in addition to the landfill tax credits generated from our site at Mullaghglass has been able to provide support to so many worthwhile community based environmental initiatives."
Projects which were awarded funding this year include the multi sports area at Carrickhill, Belfast, refurbishment of two community buildings, one in Belfast and one in Aghalee; new play facilities in Springhill Park (West Belfast); environmental improvements in Wallace Park, Lisburn and a interactive play area at Suffolk Community located in the heart of the Suffolk area of West Belfast and offers a range of activities and facilities for the local community. The need for this project arose due to the lack of provision for a safe & secure recreational amenity on a derelict piece of land at the rear of the centre.
Funding of £40,000 was secured via the Alpha Programme and Groundwork NI designed an interactive play area for young people. Through community consultations three zones (pre school, primary and teenage) were designed by and for children and young people. The area also includes informal seating and barbecue area for community events, a ball games area, sound tubes for interactive play and a quiet area with trees and seating.
julieann.spence@ulsterstar.co.uk
Ulster Star
02/09/2011