Nothing can prepare you to take on Africa's highest mountain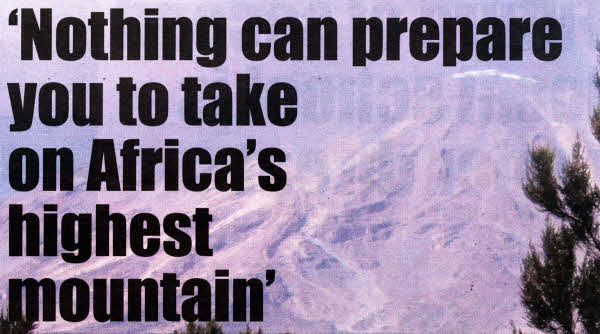 A LISBURN woman has raised over £4000 for Marie Curie Cancer Care by climbing to the top of Kilimanjaro - Africa's highest free standing mountain.
Allyson Morrow, whose father is former Mayor Ivan Davis, said nothing could have prepared her for what she had to endure on the trek which she described as "a mental, emotional and physical test...this was one hell of a roller coaster ride!".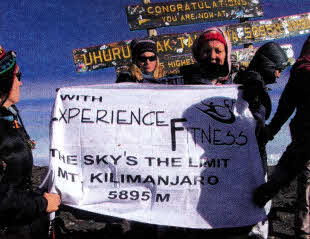 At Uhuru Peak 5895m..: very light headed and exhausted'
Allyson was among a group of 30 who met for the first time at Heathrow airport last month to begin the journey to Africa.
These are some extracts from her diary as she undertook the climb.
Sunday 18th September - a 3-4 hr drive on a very bumpy track brought us to the start of our journey, Naremoru Gate 1950m on the Rongai route. We trekked through farmers' fields and into the forest zone were we saw some Colobus monkeys. We arrived at Simba Camp 2650m late afternoon were we camped for the night. First night in the tent, it got very dark and very cold quite early, usually about 6/6.30pm. Not much sleep.
Monday 19th - Early start, up for breakfast at 6am. We left Simba Camp and as we climbed on a narrow path through the moorland, the trees became sparser and later disappeared. It usually got quite hot mid morning so trekking became endurance. We made our way to Kikelewa Camp 3678m. Very dark and very cold. A little sleep that night.
Tuesday 20th - 6am start to make our way onward and upward. Camped at Mawenzi Tarn 4295m. This night was the worst I have ever experienced; the camp site was nicknamed 'Middle Earth' as it was so destitute, it was also a lot bigger. Here a lot more people merged together as they had trekked from different routes up until then. This also meant a lot more sickness! It was at this camp site that the first of our group became seriously ill with altitude sickness, This lady had to have medication via injection so it would get into her system fast enough as she was about to go into a comma, then a quick descent. Thankfully whenever I saw her again a few days later she was fine. Temperatures dropped to minus 10 that night, not something to relish when you're in a sleeping bag in a tent! The altitude had started to affect a lot of people by then, it was not a good night for anyone! No sleep at all.
Wednesday 21st - I was not sorry to leave Mawenzi Tarn but quite quickly a couple more of our group became ill and could go no further, everyone was exhausted but we pushed on across the 'Saddle', an alpine desert between the volcanic peaks of Mawenzi and Kibo, until we set up camp again were we would rest and prepare for the summit day. We camped at Kibo 4700m.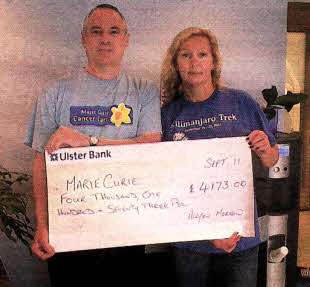 Allyson presenting Phil Kane of Marle Curle Cancer Care, Belfast with the money raised for her Kllimanjaro trek
Wednesday 21st Midnight — Head torches on we set off for the 'summit. There were literally thousands of people, all with the same intentions, unfortunately a lot of them were sick so as you
can imagine the mountain was not a pretty site. We trekked to Gilman's Point 5680m on the rim of the volcanic crater for sunrise. A lot of our group and people from other groups had turned back along this route just too exhausted or sick to continue. Altitude sickness is an awful sensation, it effects everyone in different ways, thankfully I was not physically sick, but did feel very nauseous, I had no headaches which is one of the first symptoms of severe altitude sickness starting, I was very unsteady on my feet and even trying to co-ordinate one foot in front of the other was a hard task. Whenever I reached Gilman's Point I did seriously think that I mightn't be able to continue to Uhuru Peak 5895m. It was a further two hours away. This was a very emotional time for me, I was thinking about my family and everyone who had supported me. I have two very good friends who have close relatives receiving treatment for cancer and I felt I would be letting them down if I didn't summit. I now realise that I was being silly but at the time being in that altitude seriously plays with one's mind! I discussed this with the doctor of our group and she reassured me as long as I didn't have a headache I would be able to make it 'Pole Pole' — slowly, slowly. I took the decision to go on; I couldn't have done it without the help of one of our African guides, who literally walked with me one slow step at a time. How those guides summit that mountain two to three times a month I will never know.
Thursday 22nd at 05.45hrs GMT - I reached the summit of Uhuru Peak 5895M, what an emotional moment! After a few photos we had to descend quickly as our breathing was becoming laboured. It was a long descent back the way we had come and I was rapidly becoming even more unsteady on my feet and on quite a few occasions thought I might need assistance off the mountain, people everywhere around me were being dragged down by guides in a semi conscious state and it was very frightening to see. We camped at Horombo 3700m that night and I think it was the 1st night I had any sleep, it was still very cold.
Friday 23rd — We left Horombo and had a very long trek through the moorland and forest to the gate at Marangu. Arriving there at approximately 3pm at 1900m. Relief...the time to get off that mountain had finally arrived.
Safely home, Allyson reflected on her experience. "This is something I will never forget as long as I live" she said. "I had some very low and lonely moments on that mountain and am really glad to be back home to my family and friends.
"A special thanks to my husband Stephen, who supports me with everything I do, thanks to Lisa at Experience Fitness who kept me motivated and got me physically ready for this challenge, Fiona at Blackstone Physiotherapy and thanks to Paul and everyone else for all the help with the fund raising for Marie Curie.
"I cannot thank everyone else enough for all their encouragement and support." To date Allyson has raised an incredible £4173 for Marie Curie.
Ulster Star
14/10/2011