Anahilt Primary achieves status of a Model School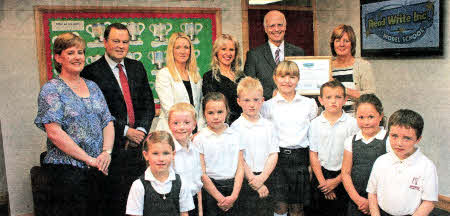 Mrs Gill Clement from Oxford University Press presents Principal Mr Derek Capper with a certiflcate conferring Model School status upon Anahilt Primary on behalf of 0UP and Ruth Miskin Literacy. Front Row: Erin Chambers, James Shannon, Leah Crawford, John Magee, Jenny Hamilton, Ryan Jess, Rebecca Walker, Harvey McMurray Back Row: Mrs. Debbie Davidson (Literacy Co-ordinator), Dr. Victor Poots (Vice Chair Board of Governors), Mrs. Oonagh Kelly (OUP representative), Mrs Alison McCune (Vice Principal), Mr Derek Capper (Principal), Mrs. Gill Clement (OUP Manager for NI and Scotland.
ANAHILT: Mrs. Gill Clement, area manager of Oxford University Press, has presented Mr Derek Capper, Principal of Anahilt Primary, with a certificate to confirm the status of Model School for its teaching of the Read Write Inc. phonic programme for the past two years.
Following training, members of staff began teaching synthetic phonics through Read Write Inc to all pupils in the school. A rigorous self evaluation programme (EFQM) ensued and it was demonstrated that reading standards had a statistical significant improvement. Children were reading to a higher level than ever before, spelling and writing improved and standards overall improved.
Presenting the certificate Mrs Clement said she had enormous pleasure presenting Mr Capper and all the staff at Anahilt with RWInc Model School Certification and appointing them a school of Excellence for Read Write Inc.
"We believe there is nothing more important than every child learning to read effectively. Read Write Inc provides a simple and effective way to teach children to read. Very well done to all at Anahilt Primary" she said.
The Read Write Inc. programme was devised by Ruth Miskin, a former Head Teacher from London, to help children 'learn to read so that they can read to learn'. This has certainly been the experience of the children in Anahilt Primary School.
Mr Capper said: "The introduction of Read Write Inc. has enabled the children to progress beyond what they would have achieved prior to this programme being introduced."
Mr Capper said the majority of parents have reported that their children have become more confident readers and spelling has improved significantly.
Mrs. Alison McCune, the Vice Principal, whose youngest son has been taught using synthetic
phonics, through Read Write Inc. is one of its greatest advocates.
She said: "Read Write Inc has allowed my son to progress in his reading much faster than I would ever have expected. In addition he can write and spell independently. He has learnt to read words such as 'incredible', adventure' and 'beautiful' at the end of P1 and is developing a love for books which is great to see."
A number of schools in NI have already contacted the school to find out more about Read Write Inc. Mr Capper said: "I firmly believe this programme should be introduced to all schools. The structure it provides gives the children the tools to enable reading to take place earlier than most other methods. I have been in teaching for 41 years and this is the most exciting and successful educational initiative with which I have ever been ínvolved."
Ulster Star
07/10/2011