Former Dunmurry schoolgirl in race for Christmas No. 1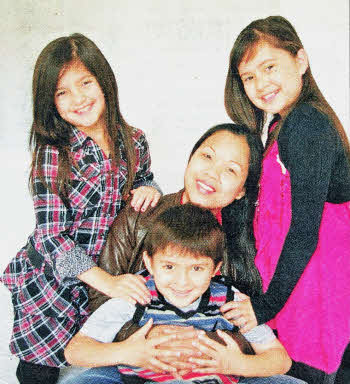 Arianna, right, with her mum Lilia and sister Shanelle and brother Brandon.
A TALENTED young girl whose family hails from Dunmurry is set to be the next singing sensation. 10-year-old Arianna Morgan, a former pupil of Our Lady Queen of Peace Primary, has recorded her first song after being discovered by a music producer in London when she was singing at a charity event.
As she now battles it out for the coveted Christmas number one spot the young school girl hopes local people will enjoy her music.
She said: "The Christmas release isn't all about me beating the X Factor. I just want people to like my voice and my take on the song."
Kieran, Arianna's father, a former professional footballer, spent much of his playing career in exotic Far East locations such as Singapore, Hong Kong as well as New Zealand. He says he and his wife Lilia are very proud of their daughter.
Kieran first realised his eldest daughter could sing about three years ago when he over heard her in her bedroom. "I couldn't believe it was her singing", said Kieran who is originally from Knockmore. "I thought she was playing a song. She's got the voice of an angel."
He continued: She just loves singing and has played at a lot of charity events and it was at one of these that she was spotted by music producer Tony White. Before we knew it Arianna was in a studio in London recording her first song 'Songbirds' by Fleetwood Mac which was released last week."
The proud dad added: "She just takes it all in her stride considering how young she is. She is a lovely child just like her sister Shanelle, 8, and Brandon, 7."
Arianna was brought up in Dunmurry from the age of 6 weeks and she moved with her family to Essex in 2006.
Her mum Lilia is from the Philippines and sang in a band herself.
"For Arianna it is all about the music and this is what keeps her grounded," explained Kieran. Check out the promotional video for Arianna's version of Songbird on
https://www.youtube.com/watch?v=EBtKAjA-fRc or visit her official web page https://ariannaofficial.co.uk/ .
Ulster Star
16/12/2011