Voices of the Lagan heard again in new book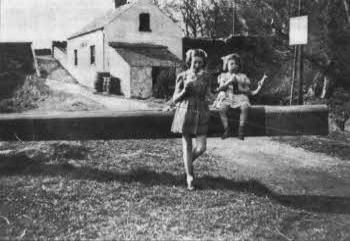 Clara Crookshanks with her elder sister Margaret at the Drumbeg Locks in about 1946
THE history of the River Lagan and the memories of those who lived and worked on its banks have been brought back to life in a new book.
By the Banks of the Lagan: Belfast to Drum Bridge' by Dr Ben Simon was launched recently at Lagan Valley Regional Park Visitors' Centre.
The book takes the reader on a journey along the River Lagan and Canal with people who lived and worked along its banks. There are stories of days gone by that offer a glimpse into a past way of life along the waterway. There are recollections of horse-drawn canal boats, working in local factories, farming life, country shops and the big houses of the gentry.
More than thirty people who lived or worked near the Lagan contributed memories for the book. Several of the people interviewed were in their 80s, the oldest was around 100 years old and recalled that her father had been the chauffeur for John Brown of Longhurst, Malone, who had the first car in Ireland, which ran on coke.
Edenderry, one of the most interesting places on the Lower Lagan, is described by several
residents who recall working in the weaving factory which, until it shut in 1980, was a focal point for this community.
The last stories at the end of the book describe life at Drum Bridge, in the countryside.
The stories were collected by Ben Simon, who has a keen interest in local history. "I really enjoyed meeting and talking to so many people who have lived and worked along the Lagan," he explained.
"Everyone was very helpful and all of the stories they told are fascinating, they bring the past to life.
This area is rich in heritage and the former Lagan Canal towpath, where for over 200 years horses slowly pulled barges, is now a public footpath that provides a wonderful way of exploring the places mentioned in the book."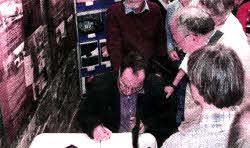 Dr. Ben Simon signing copies of his book at the launch
The book was researched by the Forest of Belfast Initiative. Publication has been made possible by funding from the Heritage Lottery Fund (HLF) through Laganscape, the Lagan Valley Regional Park Landscape Partnership.
Mark Glover, member of the HLF Committee for Northern Ireland, added:
"'By the Banks of the Lagan' provides a great insight into the rich heritage of the river by the people who lived or worked alongside it. This book is just one of the initiatives of the exciting Laganscape programme and we are delighted to support this exploration and celebration of our local heritage."
By the Banks of the Lagan' is available price £6 from the Lagan Valley Regional Park Office, Visitors' Centre, 3 Lock Keeper's Lane, Milltown Road, Belfast. Further information, contact Lagan Valley Regional Park on 9049 1922 or admin@laganvalley.co.uk.
julieann.spence@ulsterstar.co.uk
Ulster Star
14/10/2011