Couple support battle to treat anorexia
by STACEY HEANEY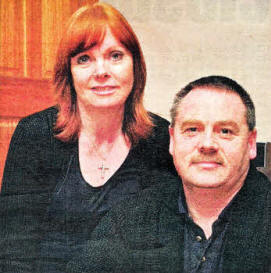 Jennifer and Brian Murray who are organising charity events to support anorexia treatment. US0611-402PM Pic by Paul Murphy
A LISBURN couple are organising a series of charity events to raise vital funds and awareness of anorexia.
The couple, who are aiming to raise £10,000 through a Disco and Quiz night and a Bed Push around Lisburn, have personal experience of Anorexia Nervosa and want to highlight this much misunderstood illness.
Brian Murray and his wife Jennifer have drafted in a host of local people and businesses to support the events which will be held in the Beechlawn Hotel, Dunmurry on Friday February 25 and across Lisburn on Saturday February 26.
Brian said: 'Anorexia is absolutely horrendous, yet there is no help for Anorexia in Northern Ireland, the only help is through a Psychologist and Psychiatrist."
Referring to his experience of anorexia through a teenage girl he knows, Brian said: This young girl took anorexia last April and she has gone from 9st down to 4st 8lb at her lowest.
"Before this I knew nothing about Anorexia and I just hope I can raise awareness of the illness.
Many people don't realise that it is psychological, it's a brain disease, it's all about thought control. The family have been through hell."
The girl, who currently weighs just over five stone, has been seeing counsellors with the Eating Disorder Youth Service (EDYS) in Belfast and Eating Disorders Association Northern Ireland, which are all charity run and are struggling to stay open in the current economic climate.
However, having seen what the girl has gone through, Brian is determined to help them any way he can.
"They saved her life," he said.
Brian described how the illness took hold of the young girl, taking her from a healthy teenager to someone whose heart rate plunged to half of what it should be and whose immune system and circulation shut down.
"She wanted to go on a diet and asked for a treadmill. She was going on it two to three times per day for 40 minutes at a time. At 6am she would have half a cup of green tea, at lunch she would have two bites of a sandwich, and she would put a lettuce leaf on a set of scales; she went downhill so rapidly."
Describing the affects of the condition, Brian said: "She has to have an ECG on her heart three times per week, blood tests twice per week, her blood pressure is constantly taken. Her toes were bleeding, they turned a blue/black colour and were covered in a fungus because her immune system and circulation had shut down.
"She was below four stone and losing four pounds per week, the only choice was to go privately to see a psychologist, costing £90 per hour.
"Her mother had to take five months off work and there was an enormous amount of pressure in the house for the whole family."
Having organised the events to raise as much money and awareness as possible, Brian is hoping local people will turn out in force to help.
"The Friday night will be a karaoke, quiz and disco night and there will be a raffle, running from 7.30pmlam. There will be chest waxes for charity and people shaving their heads. Not one prize for the raffle is under £100 and it is a £5 door entry."
The night is sponsored by Balmoral Furniture, Dunmurry, where Brian has worked for 20 years. He said: "They have also lent us a lorry for the bed push and will be writing to their customers with donation envelopes, they have over 1,000 customers so even if everyone gave £1 or £5, we will raise so much."
Coca-Cola, where Jennifer works as an accountant, have also donated free drinks for the bed push and party packs for kids, with the bed push leaving Wallace Park at 12pm on Saturday February 26, and going throughout Lisburn, Lambeg, Dunmurry, Finaghy and back to Lisburn with a host of people in fancy dress and a DJ providing the music for a fun-filled event.
Brian concluded: "People don't realise that one in every 100 women take anorexia and 30% of them die.
I hope to raise as much awareness as possible and help these organisations as much as I can."
Anyone wishing to attend either charity event or who would like to take part in the bed push you can contact Brian on 07725671560.
stacey.heaney@ulsterstar.co.uk
Ulster Star
11/02/2011