Keeping children safe on the farm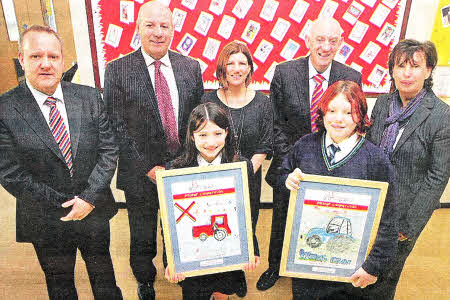 Overall winners of the 'Beware Kids' child safety farms campaign poster competition Beechlawn Winner Natasha McCarten, and Dayna Morrow formerly of Meadow Bridge PS with Paul Good Principal Meadow Bridge, Crosby Clelland Nl Board Health Safety Executive Mrs Alison Clarke teacher Beechlawn, George Lucas Chairman NI Board Health Safety Executive and Mrs Barbara Green Beechlawn Principal. US4811-102A0
BEECHLAWN School in Hillsborough was the venue for the launch of the 'Be Aware Kids' Child Safety on Farms calendar.
The launch was conducted by Chairman of the Health and Safety Executive for Northern Ireland, George Lucas.
The 'Be Aware Kids' Campaign, launched by the Health and Safety Executive for Northern Ireland (HSENI) m 2004, is an awareness initiative aimed at farm families in a bid to eliminate child deaths as a result of farming activities.
The calendar features the winning entries from tee 2011 'Be Aware Kids Child Safety on Farms rural primary school poster competition.
The competition attracted over 3000 entries from 74 schools. At the launch, Mr Lucas presented framed copies of the overall winning entries from Key Stage 1, Key Stage 2 and Special Schools to Lucy Mackey, Mountnorris Primary School, Dayna Morrow, Meadow Bridge Primary School and Natasha McCarten, Beechlawn Special School.
Speaking at the launch Mr Lucas said, "In the ten years up to 2004 when HSENI launched its 'Be Aware Kids' Child Safety on Farms Campaign we lost 18 children in farm accidents. In the eight since the campaign has been running there has been one death. This is a dramatic fall in numbers hut it is still one too many. Whilst HSENI is committed to continuing the campaign I would challenge all the key agriculture stakeholders to redouble their efforts to eliminate all accidental deaths on farms and make them truly safe places for children to live and play and for adults to work."
Mr Lucas went on to say, "I am very pleased both with the level of interest shown by the children and the standard of their art work. Their posters have been turned into a colourful calendar that packs a punch on every page. HSENI will be distributing 35,000 calendars through rural primary schools across Northern Ireland. I would urge all farm families to put their copy up on their kitchen wall and heed its very important messages." The winning entries in the poster competition can be viewed on HSENI's Stay Farm Safe website www.hseni.gov.uk/farmsafe.
Ulster Star
09/12/2011