Buster saves mum and baby from house fire
`Best present ever'
by MARY MAGEE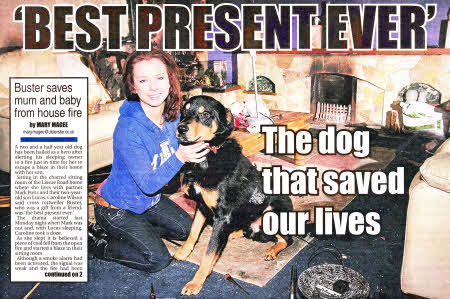 Caroline and her dog Buster in the burnt-out living room of her house at Lissue Road, Lisburn. USSO11-533cd Picture: Cliff Donaldson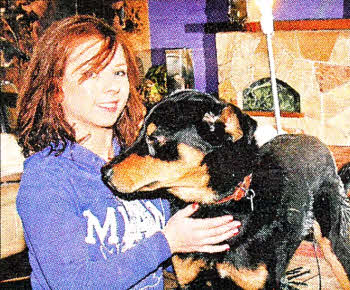 Caroline and her dog Buster. US5011-532c
A two and a half year old dog has been hailed as a hero after alerting his sleeping owner to a fire just in time for her to escape a blaze in their home with her son.
Sitting in the charred sitting room of the Lissue Road home where she lives with partner Mark Potts and their two-year-old son Lucas, Caroline Wilson said cross Rottweiler Buster, who was a gift from a friend, was the best present ever.' The drama started last Monday night when Mark was out and, with Lucas sleeping, Caroline took a doze.
As she slept it is believed a piece of coal fell from the open fire and started a blaze in their sitting room.
Although a smoke alarm had been activated, the signal was weak and the fire had been burning in the bungalow for over 40 minutes when Buster raced into the bedroom and tried to waken Caroline.
The exhausted young mum thought the dog was simply being playful and pushed him away. But determined to get Caroline's attention Buster started to thump her back, pull her hair, push his face into hers and even tried to sit on her to wake her up.
When she eventually awoke she smelt the smoke and ran towards the sitting room to find it on fire.
She raced back to rescue her son but by now the whole house was thick with smoke. Again Buster came to rescue, guiding her to the bedroom where her son lay. He even tried to waken the child by pulling the duvet from him.
Caroline managed to grab Lucas and rang the emergency services. As she ran out of the house she was met by her partner who had just arrived home. When the emergency services arrived mum and son were taken to hospital for a check up.
There she was told that if they had been in the house any longer, inhaling the thick black smoke, would have caused fatalities.
"Lucas is so small his lungs would not have coped," she said.
Now the family are reunited, Caroline says she owes their safe escape to her hero dog.
"Buster certainly saved our lives," she said. "A friend gave him to me and he was the best present anyone could have."
She described the experience as the most terrifying of her life.
"It was really terrifying, to waken to find that your house is on fire," she said. "There was no doubt who the hero was. If it had not been for Buster we would have been dead, I am convinced of that.
"We have lost a lot of stuff. Lucas' pram is destroyed, the Christmas tree is burnt down. We are painting to cover the smoke damage just to get the house ready for Christmas.
We will have to get a new ceiling and three windows are destroyed and the rest of the house is largely smoke damaged. We are in the process of painting rooms, but I'm just so grateful we're all alive.
Firefighters who arrived at the scene had to wear breathing apparatus to deal with the fire. Mark Smyth, the Assistant Group Commander who arrived at the scene, praised the dog for his actions.
"This was a major fire," he said. "Buster was good in so far that he beard the smoke alarm go off and tried to wake the occupant of the house. I believe the dog was more spooked by the noise of the alarm.
"We believe that coal fell from the fire and started the fire. During periods of extreme winter weather we receive higher volumes of calls for emergency assistance and inevitably the types of incidents firefighters are faced with become more challenging and indeed even accessing those in need during emergency situations becomes more difficult," he said. "During severe and prolonged weather periods and in particular over Christmas time people remain indoors more and extra fire hazards such as candles, fairy tree lights and portable heaters are introduced into the home.
"I am urging everyone to keep themselves and their families safe over the Christmas period by being extra vigilant to avoid fires in their homes."
Ulster Star
23/12/2011