Life of Ravarnette woman remembered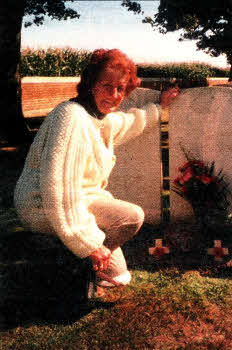 Betty Ogle during one of her visits to Belgium
THERE was a large crowd of mourners at the Hillsborough Parish Church funeral of Betty Ogle of Carnbane Road, Ravarnette, who died last week at the age of 85 after serious illness.
For much of her life she lived at Carnreagh before moving back home to her family's home cottage at Carnbane and her birthplace 14 years ago.
Betty left school at 14, then attended Lisburn Technical College where she studied Book-Keeping and Commerce. Her education had to be balanced with helping her family run a small farm and she could be planting potatoes in the fields or doing a thousand and one things at a time when the horse (not the tractor) was still the mainstay of the power needed for the planting and the harvesting.
Betty's journey to school at Hillsborough Presbyterian involved a trek over stiles, along laneways, through neighbors' fields and finally onto the Carnreagh Road to reach Hillsborough - and all this was of course on foot, summer and winter. She was a keen member of the Girls Auxiliary and had an excellent attendance record at Hillsborough Presbyterian Sunday School.
Her first job was in the old Altona Aircraft Factory at Hillsborough Old Road, Lisburn, and she cycled there and back daily. After a number of years she moved to the Civil Service where she had many fond memories of her time working in Room 204 at Stormont. A big part of her working life however, was spent locally at Irish Yarn Industries, Harry's Road, where she was Manageress of the Wool Shop. She loved her work there and her time with the other staff, but also interacting with many customers who came from all over the Province and beyond. Up until her death she recalled regulars from places like Keady, Enniskillen, Newry, and almost every town and hamlet in the Province, and many in the Republic as well. Betty worked at IYI until. her retirement.
She had met and married Sammy Ogle from Dromore when she was 22. The couple were married in Railway Street Presbyterian Church, Lisburn and their eldest two children, Brian and Rita, were born in the front room of her Carnbane Road cottage, like Betty herself. The family moved in to their own small house on Carnbane Road for a short time and there they had a third child, Noel, and soon afterwards the Ogle family, now five, moved up to Carnreagh.
Sammy and Betty lived all the rest of their married life at Carnreagh until Sammy, a fitter by trade, tragically died 27 years ago at the age of just 57. But it was a tough life bringing up three children - chickens and ducks were raised and sold to provide funds for Christmas presents for the children. Betty continued to live at the family home 89 Carnreagh Road and by now her three children had all married and she was living alone. A compassionate, caring person by nature she cared for her elder brother Tommy, a well known and respected small farmer, in the latter stages of his life when he was debilitated by illness, and when he died she got the opportunity to move back to the now renovated family home of Hillcrest.
She was sad to leave Carnreagh with so many memories, but delighted to return home to the beautiful solitude of Hillcrest, Ravarnette where she had shared so many happy but hard times growing up. She had 14 more happy years at Carnbane, but her last few years had been blighted by serious illness and wracked by pain, often beyond the control of the most modern medication. But as the years passed the old memories come flooding back once again to her of her mother Anna, father William, brother Tommy and sisters Phyllis and Joan, and hard but enjoyable and unforgettable times on the small farm.
One of her proudest achievements was passing her driving test at the age of 59. Living in the country without a car after the death of her husband would have been very challenging.
Another highlight in recent years was the day when she laid flowers for the first time at the hitherto unknown grave of her mother's brother, Rifleman George McClure at Canada Farm Cemetery outside Ypres in Flanders Fields in Belgium for the first time, some 13 years ago.
She was to return no fewer than nine times to Belgium (and also to the Somme across the border in France) and indeed only Hillsborough and Lisburn were more familiar to her than the Belgian market town of Ypres, (she called it Eeper), which she loved. Just a couple of months ago, when she was in pain and seriously ill, she remarked: "You know where I would like to be today - back in Eeper".
Unfortunately her illness prevented her making another trip, and her last visit was three years ago. Betty had however, become a regular visitor to the area and because of those visits a student of the First World War and the many places she had seen there. Her proudest moment came when she attended a Service of Dedication in St George Church, Ypres, to unveil a plaque to her late uncle. The moving tribute service included the Last Post and hymns including 'What a Friend We Have in Jesus' one of her favourites, sung at her funeral in Hillsborough Parish Church, and of course written by Banbridge man Joseph Scriven.
Two other favourite hymns Be Thou My Vision and Nearer My God to Thee, were sung before her interment in the adjoining Parish Church Cemetery.
Margaret Elizabeth (Betty) Ogle is survived by her three children, Brian, Carnbane Road, Rita, Drumbeg, and Noel, Pond Park, Lisburn, and sister Phyllis, also in Lisburn.
The family circle would like to thank everyone who cared for her in the latter years and particularly in the last months of her life, the staff of Belfast City Hospital and Lagan Valley Hospital, the carers who stayed with her and visited her regularly (some of whom were at her funeral) the doctors, district nurses and podiatrists from Lisburn Health Centre, and all those who helped when it was needed.
Ulster Star
16/09/2011