WAR WIDOW TO RUN FOR ASSEMBLY
Brenda Hale seeks fourth DUP seat in Lagan Valley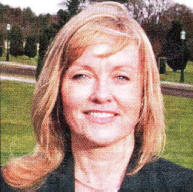 THE widow of a soldier who died in Afghanistan while trying to save the life of an injured colleague is to run for the DUP in May's assembly elections.
Mrs. Brenda Hale will join sitting MLAs Edwin Poots, Jonathan Craig and Paul Givan as the party attempts to win a fourth seat in Lagan Valley.
Her husband, Captain Mark Hale, had an office job as logistics officer while serving with 2 Rifles in Sangin Province in 2009, but volunteered to go on a patrol to make up the numbers. When a member of the patrol was injured in a bomb blast Captain Hale and another soldier rushed to help him to safety but were caught in a second blast and all three lost their lives.
Last April Mrs. Hale went with MP Jeffrey Donaldson to meet the then Defence Secretary Bob Ainsworth to express her distress at the way she and her two daughters had felt abandoned by the Ministry of Defence following her husband's death.
After their meeting Mr. Ainsworth admitted there was room for improvement in the support the families of soldiers killed in action receive and pledged to take action.
Explaining why she was running for the assembly Mrs. Hale said: "I decided to get involved in politics because I want to work to make our community a better place.
Jonathan Craig, Edwin Poots, Brenda Hale and Paul Givan.
"If I am fortunate enough to be chosen by the people of Lagan Valley to represent them in the Assembly, I hope to continue in the best tradition of hard work and effort established by our Member of Parliament, Jeffrey Donaldson.
"I am also convinced the DUP is the only party that is offering sensible, achievable and positive policies which will bring benefit to the wider community".
The party believes the inclusion of Mrs. Hale gives them a real chance of securing a fourth seat in Lagan Valley after Sinn Fein's Paul Butler opted not to run again following boundary changes which have changed the political make up in the constituency.
Environment minister Edwin Poots, who has also served at the Department of Culture Arts and Leisure, said the DUP has used devolution to deliver for the Lagan Valley constituency".
"Through measures like freezing the Regional Rate we have protected hard-working families and the most vulnerable in our society" he said.
"Through planning reform we have stopped garden grabbing that resulted in apartments crammed into small sites and have helped rural communities by taking a balanced approach to building in the countryside allowing many families with farms a new home.
"We have also led the way in constituency service, with a strong team of MP, MLAs and local councillors all working closely together to ensure Lagan Valley's interests are not left behind."
Jonathan Craig, who will also be standing again, said he believed Northern Ireland had come a 'long way' since the DUP became the largest party.
"Devolution, which was once characterised by constant collapse and instability, is now bedded down and our focus is on using devolution to deliver for the people" he said.
"Using the Assembly we have delivered a range of positive measures like extending free public transport to all citizens over 60, introducing industrial de-rating to help our manufacturing sector in these difficult times and preventing the imposition of water charges - all achievements that we can stand over."
Paul Givan, who replaced Jeffrey Donaldson in the assembly last year, said: "Becoming the replacement for Jeffrey Donaldson in Stormont was an honour and I have worked hard giving my best for the people of the Lagan Valley constituency as an MLA.
"At Stormont I have led the DUP agenda on the Justice Committee, ensuring strong support for the men and women serving in our security forces and that the sacrifice made by those who served in the RUC Part-Time Reserve is properly recognised.
"Delivering on the issues that matter to people: whether it be planning, housing or benefits have always been what people expect from the DUE. Our team in Lagan Valley provides an unrivalled level of constituency service"
Party leader Peter Robinson described the candidates as 'a formidable team with an established history of working hard and getting results for the people they represent'.
"Due to the boundary changes, benefiting Unionism, the DUP will be vigorously pursing the Sinn Fein seat held by Paul Butler and with the caliber of our candidates we are best placed to win four seats and take back the Sinn Fein seat for Unionism.
"Edwin Poots has demonstrated his vast ability as a Government Minister; Paul Givan has made a significant impact as Jeffrey Donaldson's replacement in the Assembly and Jonathan Craig has served diligently as an MLA.
"I am especially pleased that Mrs. Brenda Hale is joining our campaign. It is a testament to the hard work and dedication of our existing public representatives when people like Mrs. Hale want to get involved and help the DUP to keep Northern Ireland moving forward", he said.
Ulster Star
18/02/2011