Huge turnout at funeral of Lisburn businessman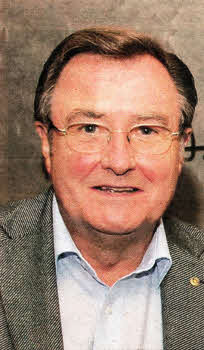 Brian Burke
THERE was a huge crowd at Legacurry Presbyterian Church on Tuesday for the funeral of one Lisburn's best known businessmen, Brian Burke, who has passed away at the age of 68. Brian was known to generations of local people as one of the area's most talented hairdressers, with salons in Castle Street and Lisburn Road.
He came to Lisburn from his home town of Omagh in the sixties, via England, and quickly established his reputation.
But Brian was equally well known for his long record of service to the community.
He was a former member of Lisburn Round Table and a member of the Lisburn 41 Club. He was a member of the Rotary Club of Lisburn for the past 27 years, having served in nearly all the major offices including president. He was also a long serving member of the Lisburn Business Education Partnership.
Brian was admitted to the City Hospital in June for tests in connection with a heart problem and later transferred to The Royal Victoria for surgery.
The operation was hailed a success but complications set in and despite the excellent care of staff in the Intensive Care Unit, he died on Thursday.
Brian is survived by his wife Edith, daughter Gaenor, his sister Avril and brothers John and Tom who travelled from Canada for the funeral.
---
Family man who stood for honesty, integrity - and fun
A Tribute by Gordon Hanna
HE was often described as a well known local hairdresser, but Brian Burke was much more than that.
To quote a popular TV advert Brian was exactly what it said on the tin — honest as the day is long and a man of integrity. And behind a laid back facade was a fierce competitive streak.
Not so much in golf, a sport he played for the craic and fellowship with his fellow Rotarians, but there was a side to Brian Burke not everyone was familiar with.
In the world of hairdressing competition he played to win. You see Brian was not just the friendly face of his salon in Castle Street where he took great delight in caring for his 'ladies'. He was also an international exponent of his chosen art.
If proof be needed Brian could boast citations from right across Europe. He was highly acclaimed in London, Paris, Vienna and Milan.
In today's world he would be hailed as a celebrity, a real star in his field. But Brian never blew his own trumpet, preferring to hide his light under a bushel.
The least said of his successes the better was his attitude.
Yet there was no denying his artistry and he was frequently recognised by his peers.
He was a member of a Great Britain World Cup winning team and as a consequence was invited to become a Fellow of the Fellowship of Hair Artists of Great Britain. He was the first hairdresser from Ireland to be accorded the honour and remains the sole recipient.
Brian was, as locals would say, is a blow-in from Omagh, although Edith is Lisburn born and bred. He blew into Lisburn in the late sixties having fine tuned his skills in England.
As his salon in Castle Street flourished he opened another on the Lisburn Road in Belfast
Edith, no mean exponent of the art in her own right, transferred and with daughter Gaenor became the management team. Brian was always interested in public service and became an enthusiastic member of Lisburn Round Table.
In 1984 he 'graduated' into the ranks of the Rotary Club of Lisburn but retained his links with the Lisburn 41 Club - an organisation for Round Tablers over the age of 40.
Brian was 'made to measure' for Rotary as evidenced by his outstanding contribution spanning 27 years, during which time he had a remarkable 100% weekly attendance.
He took great pleasure in spreading the word and it was mainly through his efforts during Lisburn's 50th year celebrations that sister club Lagan Valley got off the ground.
Brian was President of Lisburn in 1998-99, and was a Paul Harris Fellow, the highest award Rotary can bestow on an individual.
He was a man with definite views and was not afraid to air them.
He also had a wicked sense of humour, his witty interventions often raising a chuckle or two during Friday lunch meetings.
Above all Brian was a staunch family man. He loved Edith dearly, doted on his daughter Gaenor - although at times causing her to blush by introducing her as 'my wee girl .
He spoke lovingly of his sister Avril, proudly of brothers John and Tom who live in Canada and whom he used to ring at the most unearthly hours, usually after hosting a gathering of closely knit friends.
Nephew Brian and Elizabeth his niece were also frequently mentioned in dispatches.
Brian Burke was a unique individual who will be sorely missed, not just as a fellow Rotarian but as a very good friend.
I'm not convinced he would have approved of all this rambling because he always insisted a good speech was like a mmi-skirt, short enough to arouse interest but long enough to cover the main points.
God bless you Brian and thanks for the memories.
Ulster Star
26/08/2011