Integration supporter sees his donation at work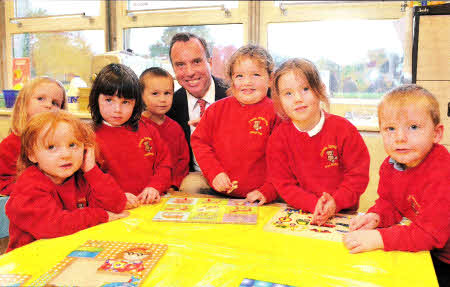 International businessman Brian Dickie joins the children at Crumlin Integrated Primary School Playgroup to witness firsthand how his support has helped establish the facility. Brian has supported the transformation of the school to integrated status working with the Integrated Education Fund to which he contributes through the American Ireland Fund.
A TEXAN businessman visited Crumlin's new Integrated playgroup recently to see how the playgroup he helped establish is getting on. Brian Dickie, originally from Northern Ireland, visited the new integrated playgroup at Crumlin Integrated Primary School which he is supporting through the American Ireland Fund.
Brian met children at the pre-school facility which is now in its second year.
Along with his wife Susan they have long been supporters of integrated education and are major donors to the playgroup which has been established thanks to their generosity. "We have supported the primary school on its recent journey to integrated status, and it's great to add our support to the establishment of the playgroup, thus enabling more children to be educated together during their most formative of years," said Brian.
A former President of TXU Energy in Texas, Brian now lives in London where he is an advisory director of investment company Investcorp. Brian is also a member of the Campaign Council of the Integrated Education Fund in Northern Ireland which is chaired by Baroness May Blood.
Crumlin IPS was granted transformation to integrated status in 2010. Principal Christine Boal was delighted to welcome Brian to the school. "We are so pleased to be able to offer integrated provision right through from preschool to P7, and the children were happy to show Brian their playgroup and thank him for his help.
"We couldn't do what we do without the support of philanthropists like Brian and Sue Dickie."
Ulster Star
28/10/2011