Jobs boost as Browns receives largest single order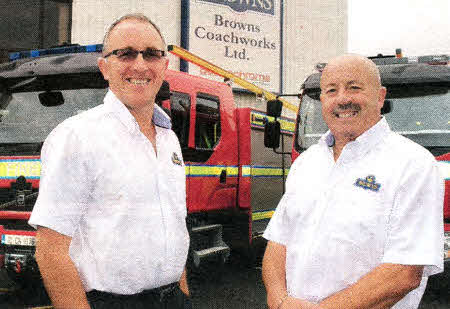 Ian Mawhinney General Manager and Brian Brown Managing Director of Browns Coachworks after announcing the order.
LISBURN-based Browns Coachworks has announced a £5 million order - the firm's largest single order for fire service vehicles - which will-see its workforce increase, with six new employees being sought.
Browns Coachworks is one of Ireland's leading coach building firms. The company, which is based on the Moira Road, and has just secured the order following the request for vehicles from Lancashire Fire and Rescue Service. This order brings the total of fire service vehicles for Lancashire to 26 and a value of over £5 million.
Managing Director Brian Brown said the deal would bring "security" to the company's workforce.
The business, founded to build stagecoaches in the 1800s by Mr Brown's great great grandfather, currently employs 59 people producing fire fighting equipment and also custom orders such as horseboxes for clients including the Princess Royal.
Since the company became a supplier to the GB brigades 75% of its output is now export.
Managing Director Brian Brown said: At a time of so many uncertainties in business I am delighted to announce this good news.
"It is great for the company and gives a great sense to security to our dedicated workforce."
Browns Coachworks have currently a recruiting programme underway for apprentices and hope to provide another six jobs bringing the total to 65.
Ulster Star
23/09/2011