Another driver caught in car park machine mixup
by MARY MAGEE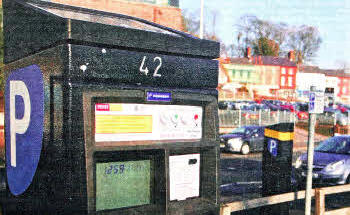 The car park at Laganbank Road with the two parting machines close to each other - one is for on street car parking and the other for the car park. US4911-148A0
ANOTHER driver who received a fixed penalty notice for displaying the wrong ticket on her car at Laganbank car park said that 'things need to change.'
Last week the Star reported how Diane Cordy had been booked while in the Laganbank Road car park because she had bought her ticket from the machine designed for on-street parking.
And the story brought back memories for Edith Kine who suffered a similar fate almost two years ago.
Edith was going for a doctor's appointment at 1.30pm on January 29, 2010 and left her Mini Cooper in the car park near the health centre. She went to the nearest parking machine, bought the ticket and placed it on the dashboard. Like Diane, she didn't realise she had bought a ticket for on-street parking.
She returned from the health centre with half an hour to spare and was nearly going to go shopping to McCall 's before returning to her Coolsara Park home.
"But I was afraid of going over the time so decided to just get into my car and go home," she said.
Edith was surprised when she got a fixed penalty parking notice in the post a few weeks later.
"I had to blink when I read the letter. I couldn't believe it," said Edith. "I didn't even have a ticket on my windscreen to let me know about the fixed penalty notice of £60.
"I had to think back on the occasion. The thing was I knew I paid for a parking ticket."
She rang the number on the back of the notice and asked if they could they investigate her complaint. She was told she didn't have a valid pay and display ticket on her car because the ticket was purchased from another machine.
Edith lodged an appeal. She took pictures of the car park and where her car was parked and where the machines were placed but Roads Service refused to back down.
"They decreased my fine to £30," she said. "In a letter I was told that I could appeal further but that failure to pay the fine within so many days meant I would have to pay £50 and then £90.
"I very reluctantly paid the £30 because I just wanted to draw a line under it.
"I have not parked there since but things definitely need to be changed," she said. "I tried to argue that there was no ticket on my windscreen when I got back to the car but I was told the ticket had been fixed for my vehicle.
"The Roads Service are aware this has been happening so why haven't they done anything to make the situation clearer.
"I am still very resentful and think I was treated very unfairly. There should have been a clear notice on the parking machines.
"I was treated as though I hadn't paid to park. If that had been the case or if I was over the time 1 would have held my hands up and said OK I was in the wrong but I believed I had done everything right." Alderman James Tinsley said many people have contacted the DUP office in Castle Street with similar complaints about both Laganbank Road and Smithfield.
He said that he plans to put the issue to a DRD official at a planned meeting at the Civic Centre this week.
"It is wrong that drivers are being penalised this way," he said. "The parking machines should be coloured differently or there should be some clear notice on them because drivers are getting fixed penalty notices unfairly."
Ulster Star
16/12/2011