-Judge's verdict on a ruthless killer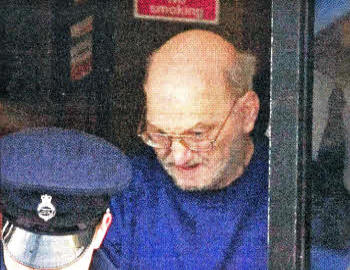 Killer Black is taken from court
'You subjected a vulnerable child to unpardonable terror and took away her life. By the manner of that loss, You also wounded forever a family that treasured that child. It was a wicked deed'
THE KILLER who murdered Ballinderry schoolgirl Jennifer Cardy in 1981 has been sentenced to a minimum of 25 years.
Robert Black, now 64, was told by Mr Justice Ronald Weatherup at Belfast Crown Court he would be jailed until be was at least 89 for murdering nine-year-old Jennifer, who was snatched as she cycled to a friend's house in 1981.
The murderer, who has been convicted of killing four young girls and is being investigated over a fifth disappearance, is now serving at least 12 life sentences at Wakefield prison.
This includes the jail terms for murder and kidnapping handed down by Mr Justice Ronald Weatherup at Belfast Crown Court, which effectively added a further seven years to the date at which Black could be considered for release.
The former delivery driver abducted Jennifer while on a work trip to Northern Ireland and dumped her body in water at McKees Dam, close to the main Belfast-Dublin road near Hillsborough, before catching a ferry home.
Mr Justice Weatherup, who earlier heard the killer's own lawyer offer no plea for mercy, said it was a "wicked deed".
Outside the court, Jennifer's parents, Andy and Pat, said they were satisfied that, in real terms, Black would spend the rest of his life behind bars.
Mr Cardy said his family's faith in God sustained them, adding: "It has been an emotional couple of hours. It has been a long, long journey. It has been 30ears of a journey."
Of the sentence, he said: "We are very, very pleased. We think that justice has been done. We don't think Robert Black will ever be out of jail again to assault wee girls. He will never be able to torture little girls."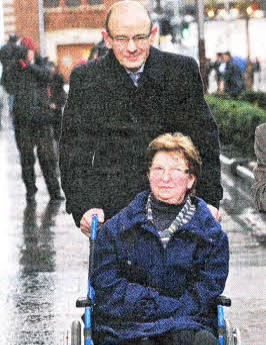 Jennifer's parents Andy and Pat leave court after the sentencing.
Mrs. Cardy, who also has two sons - Philip and Mark - and a daughter, Victoria, said: "There is absolutely no bitterness.
"I have never been asked personally to forgive Robert Black."
But Mrs. Cardy, who was in a wheelchair after being injured in a recent car accident, added that if he asked for forgiveness: "I would meet him face to face."
Black was convicted of Jennifer's murder in October following a six-week trial at Armagh Crown Court.
Last Thursday's hearing began with prosecution barrister Toby Hedworth QC arguing that Black should face a whole life term, given his other killings.
David Spens QC, for the defence, said: "This is one of those rare cases in which there is no mitigation and so I propose to say nothing in that regard."
Mr Justice Weatherup told Black that Jennifer's abduction on August 12, 1981 was "an act of sexual predation".
"Whether you sexually assaulted Jennifer has been a matter of some debate but there can be no doubt that the abduction was intended to further a sexual purpose.
"Within hours of that abduction Jennifer had died by drowning as a result of your action in placing her in water.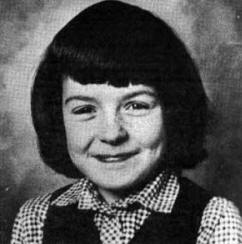 Jennifer Cardy.
"You subjected a vulnerable child to unpardonable terror and took away her life. By the manner of that loss, you also wounded forever a family that treasured that child. It was a wicked deed."
The judge spoke of victim impact statements which have been provided by Jennifer's father.
"Her father speaks poignantly about Jennifer, of the family's awareness of Jennifer's absence from all family occasions, and of the harrowing revelations in the course of the trial."
Black, who was led into the Belfast court in handcuffs and wearing a white T-shirt, grey top and blue jeans, showed no emotion during the sentencing and was again handcuffed by the two prison officers who flanked him as they led him away.
Jennifer's parents sat to his left, only feet away from their daughter's killer.
After the hearing ended, the deeply religious couple spent a few quiet moments alone before addressing the media, amid heavy wind and rain, outside the court building.
Black was found guilty in 1994 of three unsolved child murders in the 1980s — those of 11-year-old Susan Maxwell, from the Scottish Borders, five-year-old Caroline Hogg, from Edinburgh, and Sarah Harper, 10, from Morley, near Leeds.
The paedophile has long been the prime suspect in the case of missing 13-year-old Genette Tate, who was last seen in a rural lane in Aylesbeare, Devon, in 1978.
Ulster Star
16/12/2011