Lisburn woman awaiting new heart appeals to people to get on organ register
'A new heart would mean the world to me and my family
by JENNY MONROE
| | |
| --- | --- |
| | |
| Cathy McCracken and her son Daniel | Cathy with her children Daniel and Sarah-Louise. |
A LISBURN woman has spoken of her ordeal of waiting for a heart transplant and is urging more people to sign up to the NHS Organ Donation Register.
Cathy McCracken, who is just 40 years old, has been told by doctors that she needs a new heart urgently and can't leave hospital until an organ is found. While some in the same position could understandably get down about their situation, Cathy has a fighting spirit and wants to share her story to encourage more people to get on the donor register.
She is receiving treatment to keep her alive at the Freeman hospital in Newcastle-upon-Tyne, leaving behind her 18-year-old daughter Sarah-Louise, and son Daniel, 8. Cathy's devoted husband Leslie divides his time sitting at her bedside and flying back to their Manor Park home.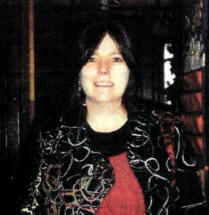 Cathy was diagnosed four years ago with dilated cardiomyopathy — a disease of the heart muscle causing it to become so weak and enlarged that it cannot pump blood effectively. Tragically the same condition claimed her mother Carol's life at just 36.
Having spent five weeks in hospital away from her family and friends Cathy is coming to terms with the fact that she won't get out of hospital until she gets a transplant. She said; "It really is a waiting game. If they send me home I will come off the urgent list. This really is the best place for me to be."
Explaining the effects of her condition Cathy says: "It causes my body to build up fluid, which makes me feel really ill. Even when I walk a couple of steps it makes me physically sick. I'm on a drip and take tablets to help me lose the fluid but it means running to the toilet all the time so I don't get much sleep.
"When I first came over here I couldn't lie down flat either because the fluid builds up in my stomach and lungs and I couldn't breathe. I'd to try and sleep bolt upright which wasn't comfortable. Bending down was almost impossible."
Asked what a new heart would mean for her she said: "It would give me a whole new lease of life. It would mean the world to me and my family. I haven't been able to walk much and I am looking forward to the day I can walk around the Giant's Causeway - just enjoy normal family life."
Cathy says the days are long but she is determined to stay positive. "It's boring, although everyone is really good, and it's great speaking to others in the same position. I read, do puzzles and am keeping a diary so I can look back on this when I am better. I miss the kids but I chat to them every day and send texts. I do worry about Daniel and Sarah-Louise although they seem to be coping."
Cathy says she considers herself lucky; "There are over 300 people in Northern Ireland waiting for a transplant of some sort, so while I'm here, I'm considered a priority.
"You don't realise what it is like until you're in this position, but I'd tell anyone not on the Organ Donor Register to get their name down. "It's not going to hurt to donate organs and it will save lives. Only a quarter of the Northern Ireland population is on the donor register.
"I try not to think about how long I might have to wait for a heart but when I do get one I will be able to start living again."
Speaking about his wife Les, also 40, who is himself recovering from a stroke said: "She is the most amazing woman I know. Her strength, determination and zest for life is incredible considering what she is going through."
The couple's daughter Sarah-Louise says seeing her mother patiently wait for a heart has made here realise how important organ donation is. She said: "I really wasn't aware of the transplant register and what it meant but now I know only too well. My mum is taking it all in her stride and she is an inspiration. We miss her and I can't wait to spoil her when she gets home."
Transplant UK is trying to raise awareness of the daily struggle faced by people here waiting for a transplant. Like Cathy, they have been told their only chance of survival is a transplant. But with only a quarter of the Northern Ireland population signed up to the NHS Organ Donor Register, people are dying needlessly. To sign up and save lives, text SAVE to 84118, telephone 030 0123 2323 or log onto www.organdonation.nhs.uk
'She is the most amazing woman I know. Her strength, determination and zest for life is incredible considering what she is going through'
Ulster Star
18/03/2011