Students take part in Change Makers programme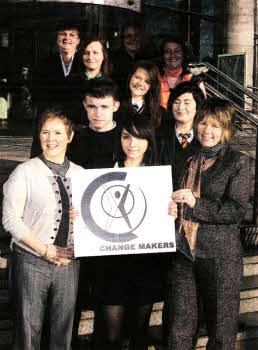 L-R Carmel McCavana, NICE Lisa Dietrich, CRIS; Geraldine Stinton, YMCA; Clara McFarlane, Change makers and Anne Henderson, International Fund for Ireland; with students from participating schools in the Change makers programme; Shannon Gray, Fort Hill Integrated College; Amy Kerr; Friends; Sarah Heath, Priory College; Gillian McPhilips, Malone College; Thomas Graham, St Colm's. Photography by Darren Kidd/presseye.com
LOCAL schools have been taking part in the Change makers programme, which aims to develop a greater community relations ethos in post primary schools and which will directly involve up to 8,000 young people over a three year period.
The Change Makers Programme is the shared vision of three experienced organisations; Northern Ireland's Children's Enterprise (NICE), City of Belfast YMCA, and Community Relations in Schools (CRIS). This group of well respected organisations have come together with a common goal - to bring best and effective practice in the field of community relations to the education sector. Change Makers which is funded under the International Fund for Ireland's Sharing in Education Programme is a three-year programme which will be delivered initially to 10 post primary schools in the Greater Belfast area, ensuring a cross section of Unionist and Nationalist participation.
Change Makers will engage 1418 year old pupils in accredited CCN programmes and 11-18 year olds in non-accredited community relations programmes. These Programmes will explore young peoples understanding of prejudice, discrimination, sectarianism and increase their awareness of different cultures.
Ciara McFarlane from Change Makers commented; "There is already a high demand for participation in this Programme and we are very excited to roll out the first tranche of activity. We hope Change Makers will not only increase young people's understanding of community relations issues but it will give schools the opportunity to be catalysts for change in their own communities."
John Houston from Fort Hill Integrated College said: "This is a really exciting programme as it has the potential to really change attitudes not just within our young people, but whole schools and society at large. There will be a sharing of cultures, values and beliefs through meaningful contact with others and we are looking forward to getting started."
The 10 Post Primary schools than Change Makers are working with are Priory Integrated College, Malone Integrated College, Crumlin Integrated College, Fort Hill Integrated College, St. Patrick's
Lisburn, St. Colm's Twinbrook, St. Louise's Belfast, Hunter House College, Friends Lisburn and Lisnagarvey High School. The three Primary Schools are Harmony Hill, St. Aloysius Lisburn and St. Joseph's Lisburn.
Ulster Star
07/01/2011