Ho ho ho - Christmas cheer for city centre Parkers
by JULIE-ANN SPENCE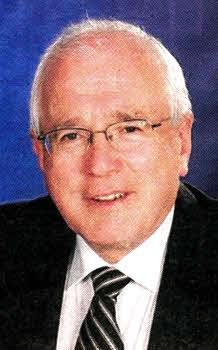 Alderman Allan Ewart
DRIVERS coming into Lisburn over Christmas are to get an early present after it was announced there will be free on-street car parking in the City Centre from 4.30pm Monday to Friday and all day Saturday.
Regional Development minister Danny Kennedy announced it will come into effect from next Monday, December 5, and run until Christmas Eve.
It follows a recent meeting where the Minister met representatives from Lisburn City Centre Management and Lisburn City Council to hear representation on a number of local issues and concerns.
Welcoming the announcement, Alderman Allan Ewart, Chairman of Lisburn City Centre Management said: This demonstrates the ability of our local Northern Ireland Assembly to react flexibly to local situations. I would see this as a genuine attempt by the Minister to work with local politicians and the business community while encouraging the public to visit Lisburn City Centre and support the local and the independent retail sector in the run up to Christmas.
This free on-street parking from 4.30pm weekdays will allow both workers and visitors to browse around the heart of Lisburn after work or on their way home to enjoy the many retail establishments in the City Centre.
"With only three Saturdays left until Christmas Eve the free street parking and the good value off-street parking provided by both the DRD and private car park operators will allow people to spend quality time in Lisburn this Christmas."
John Steen, President of Lisburn Chamber of Commerce also welcomed the news. "With late night shopping in Lisburn every night from Monday December 12 up until Christmas this initiative will be welcomed not just by our retail members but by those who will also benefit in leisure and evening economy sector. This free early evening parking will encourage the public to come into the city centre to enjoy the range of restaurants and eateries, many of which offer early bird menus."
Alderman Jim Dillon, Chairman of the Council's Economic Development Committee said it was an example of the positive collaboration between the Chamber of Commerce, Lisburn City Centre Management and Lisburn City Council.
"With the city centre being such a family focused destination, this extended period of free on-street parking will allow families to come into the City after school to take part in lots of entertainment and activities lined up throughout December" he said.
"This includes for example Lisburn's unique Reindeer Hunt competition and the four day Christmas Market at Lisburn Square from December 14 to 17."
The lifting of the restrictions apply to on-street parking and the Roads Service maintamed pay and display car parks will continue to be pay and display Monday—Saturday 8am-6pm.
julieann.spence@ulsterstarco.uk
Ulster Star
02/12/2011