Lisburn celebrates 'The night before Christmas'
by JULIE-ANN SPENCE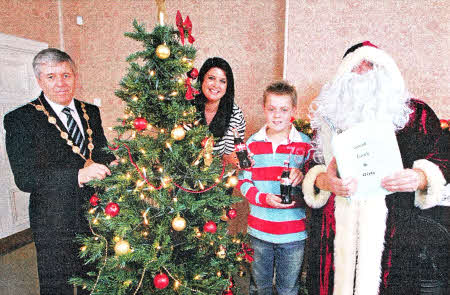 Master George Boyde helps to launch the 2011 Lisburn Christmas Switch On. To mark the theme of this year's event, `Twas the Night Before Christmas' George is joined by Mrs Gillian Shields from the event sponsor Coca-Cola HBC Northern Ireland; the Mayor of Lisburn, Councillor Brian Heading and Santa Claus.
THIS year's Christmas Switch-On in Lisburn City Centre will take place on Friday November 18. Coca-Cola HBC Northern The event will embrace 'Twas the Night Before Christmas' as its theme and will see spectacular carnival pieces and a host of professional performers wearing traditional and modern costumes.
Up to 200 local schoolchildren from schools across the Lisburn area will form a lantern parade through the City dressed as angels, elves, Santas, sleepy children, chimney sweeps and Victorian children - to start Christmas in the city in true community style.
The Mayor, Councillor Brian Heading, said: This popular annual showcase event is for our residents at Christmas-time; and I myself am looking forward to seeing the magnificent parade make its way through the City and provide an enjoyable night of entertainment.
"Lisburn's Switch-On marks the start of what will hopefully be another busy Christmas period in the City and the Council hopes that everyone will enjoy the event."
Accompanying the local schoolchildren with their handmade lanterns made in workshops held in their schools will be a toy soldier, a Victorian Queen, festive stiltwalkers and giant stars and Christmas trees. Other attractions include snowmen, a glimmer man, a gingerbread man and 'Wee Willie Winkle', as well as Santa Claus and his helpers who will arrive on a specially commissioned train to wish all the children a 'Very Merry Christmas'.
Mrs Gillian Shields, PR Executive at Coca-Cola HBC Northern Ireland who are sponsoring the event, said: "We are delighted to be supporting Lisburn City Council as they begin the Countdown to Christmas. Lisburn has been the home of Coca-Cola for the last 43 years and we are proud to be able to celebrate this festive season with our local community."
The parade route will leave Christ Church moving to Market Street, Bow Street, Market Square and Smithfield Street before making its way back to Christ Church.
Following a countdown the Mayor will switch on the festive lights from the stage area in Market Square. The choir of a local school will support the carol singing at the start of the event, which begins at 6.30pm, with the Parade taking place at approximately 6.45pm.
julieann.spence@ulsterstar.co.uk
Ulster Star
04/11/2011