City UDR statue set for unveiling in Spring
by STAR REPORTER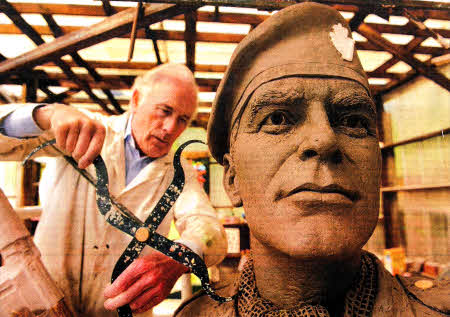 John Sherlock working on the sculpture - Picture by Harrison Photography
THE internationally acclaimed sculptor commissioned to create an artwork in the middle of Lisburn as a tribute to the Ulster Defence Regiment has said it was an honour to be associated with the project.
John Sherlock has been working with the regiment's Memorial Trust to create a lasting tribute to the UDR for display in Market Square. Equally well-known for his portraiture work, Mr Sherlock has achieved international acclaim for his many sculptures of Northern Ireland's religious, sporting and political elite. His more high-profile commissions have included the life-sized bronze statue of Professor Frank Pantridge, inventor of the cardiac defibrillator, which is situated outside Lisburn's civic centre.
Another is the sculpture of inventor and aviation pioneer Harry Ferguson, which is situated across from Ferguson's old house at Growell, near Annahilt.
Mr Sherlock has also completed bronze busts of Nobel Laureates David Trimble and John Hume. Commenting on the 19ft UDR memorial he said: "Everyone involved in the Lisburn sculpture has put their heart and soul into it and I couldn't have had a better group to work for.
"I don't think I could have got a better commission for a more justifiable project —I Hope it strengthens the resolve of all those who served."
The memorial shows the bronze figures of a male soldier and a female 'Greenfinch' on operational duty on a Mourne granite plinth and is designed as a tribute to all who served with the regiment — not just those who were killed or injured.
An inscription on the plinth says: "In memory of the men and women of the Ulster Defence Regiment 1970-1992."
The sculpture's creator, who has no direct connections with the regiment, said his work on
the UDR memorial started with a maquette (small scale model) of the finished piece at his studio in Whiteabbey.
"There was a great team looking after the overall production of the sculpture. Once the maquette was made it was a matter of having it approved and then getting it scaled up to life-size and then one-and-a-half times life-size.
"Then you have to cover the whole thing with silicone and carry out various other processes before it can be cast in bronze."
The sculpture is due to be unveiled in Lisburn's Market Square around April or May.
Ulster Star
21/01/2011