Coca-Cola team awarded for PR excellence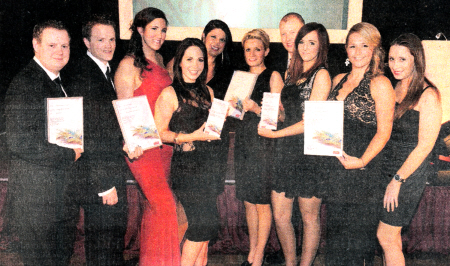 Awards Success for local Coca-Cola Team - Members of the Coca-Cola HBC Ireland Public Affairs and Communications team pictured with their Chartered Institute of Public Relations Pride Awards.
THE Public Affairs and Communications team at Coca-Cola HBC Ireland, based in Lisburn, has been commended for its exceptional PR and Communications achievements at the annual Chartered Institute of Public Relations (CIPR) PRide Awards in Belfast.
The CIPR PRide Awards, which are assessed by an expert judging panel in the UK, recognise and reward the outstanding achievements of the local PR and Communications industry. The Coca-Cola team was awarded two gold awards in the 'Best Internal Communications' and 'Best Internal Magazine' categories for its employee communications programme. The company also picked up two silver awards in the Best Corporate Responsibility' and 'Best Community Relations' categories for its Coca-Cola Clean Coasts programme, activated in partnership with environmental organisation Tidy Northern Ireland.
Speaking of the company's success in these high profile PR industry awards, Public Affairs and Communications Director, Maire Campbell commented; "We are extremely proud that our work has been judged by the CIPR as amongst the best in the country. Our employees are at the heart of our business and we strive to communicate with them in an engaging, informative and interactive way. We are also committed to promoting good environmental stewardship within our local community and are delighted that our partnership with Tidy Northern Ireland has been recognised."
Ulster Star
30/12/2011