Gruelling challenge ahead for Colin in Iron Man event
Fund raising effort in memory of family member
by MARY MAGEE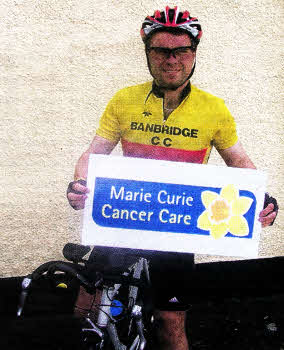 Colin Watterson - all set for Iron Man event.
A LISBURN man is undertaking a gruelling challenge in aid of Marie Curie Cancer Care. Colin Watterson, a company director for a battery company, will be taking part in the Manchester based Iron Man event in memory of his aunt Jean McKinney who died in November from a brain tumour.
Jean (68) from Lisburn, had been diagnosed just seven weeks before she passed away in November 2010. The family were very grateful for the love and support they received from the Marie Curie nurses so Colin decided to do something to raise awareness of the work the charity does.
Colin, a keen sportsperson from Meetinghouse Lane, had always thought about taking up the Iron Man challenge but never got round to it. However, he started training eight months ago and this will be his first attempt at anything so daunting although he has completed several triathlons.
"I had it in my head that I would like to take part in it some day," he said. "I had seen it on television and thought it would be great to do, but after my aunt died it gave me the focus and motivation to do it.
"I wanted to do something not only to raise money for the charity, but also awareness of the good work that the charity does."
Colin, who is a member of the Banbridge Cycling Club and Lisburn Racquets Club, will start off at 6.00am next Sunday doing a two and a half hour swim followed by a 112 mile cycle and then a full marathon which should be completed by 11.00pm that night.
Though it will take up to 17 hours to complete, Colin hopes he will be able to do it in just 15 hours.
His preparation has seen him spending up to ten hours a week training - which includes 100 miles of cycling and 2km of swimming but Colin will be happy just to complete the challenge.
"I am not doing it on any competitive level I just simply want to complete it," he added.
"I do know what to expect and am not going into this with my eyes closed. I have a friend who has done it and picked up really good advice telling me not to dehydrate and to drink plenty of water and eat plenty of Garbs.
"This will be a one off event for me as I have had to make a lot of sacrifices and it has taken up quite a lot of my free time over the past few months. I do up to ten hours a week of solid training a week which takes up quite a lot of my time."
Colin hopes to raise £1000 for the charity and anyone who wishes to make a donation can visit www.justgiving.com/Colin-Watterson
Anyone wanting to donate money can do so by ringing Colin to 07745547570.
Ulster Star
22/07/2011