Ironman Colin raises £2000 for Marie Curie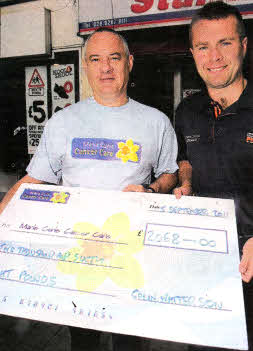 Colin Watterson handing over a cheque for £2068 to Phil Kane community Fundraising Manager of Marie Curie Cancer Care. US3611-108A0
COLIN Watterson, a director for a battery company, has completed one of the world's most gruelling events - the Ironman challenge - in a remarkable 15 hours.
Colin raised £2,000 by completing 140 miles made up of a 2.4 mile swim, 112 mile cycle race and finishing with a marathon during the challenge in Manchester in aid of Marie Curie Cancer Care.
He competed against 1350 participants in the July 31 event which, just to make it even harder, had to be completed within 17 hours.
"I have been training for it since November last year," said Colin. When I entered the aim was also to try and raise as much money as possible for Marie Curie hospice charity."
Colin wanted to help in memory of a relative, who sadly passed away in November from a brain tumour.
The family were very grateful for the love and support they received from the Marie Curie nurses so Colin decided to do something to raise awareness of the work the charity does.
Colin, a keen sportsperson from Meetinghouse Lane, had always thought about taking up the Iron Man challenge but never got round to it.
"I was nervous from about two weeks before the event right up to the start as it dawned on me the size of the task ahead as well as the unknown of what lay ahead. I didn't even know if I could finish it at all," he said.
The swim went very well as training indicated that I would get about two hours and the cut off time was two hours 20 minutes but I ended up doing it in one hour 39 minutes.
The bike was the part that I was at least experienced in but I was confident I could finish in about eight hours. The bike course was a tough one and after a 22 mile route from transition one you had to complete three 30 mile loops over rolling moorland and a hard 2000 ft. climb each loop.
"It went well apart from a fall on the first loop but thankfully the bike was in one piece and I had only a few scrapes so I was able to continue and finish with a decent time of 7 hours 12 minutes.
However there was a bit of cramp starting to creep in. "The run I knew was going to be very hard as I twisted my knee back in May and was not able to train over six miles without feeling a bit of pain so I was expecting the worst. The cramp really started to settle in at about the 10 mile stage and I was sick twice as I tried to keep food down.
"But with the excellent support of a large crowd that turned out to support the competitors I managed to keep focused enough to run/walk the rest with a 5 hour 30 min marathon which with transitions made a total time for me of 15 hours 1 minute which I was very pleased with. It was a long day with a lot of suffering but after a couple of days I managed to recover.
"I would like to thank my friends and all at the club for their generous support for such a wonderful charity and I have raised £2000 for Marie Curie, which is fantastic, also thanks must go to Iain Getty for getting me over my injury and able to compete."
Ulster Star
09/09/2011