Retailer calls for `common sense' approach to parking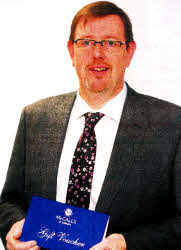 Mark McCall of McCalls with a gift voucher for Mrs. Fraser. US4711-142A0
LISBURN retailer McCalls have stepped up to recompense one of their customers after learning she received a parking fine whilst visiting the city to shop in their store.
The Star featured a letter last week from Mrs. Margaret Fraser of Broughshane, who described how she and her husband were fined for parking in Smithfield Square East car park, not having realised it was a pay and display parking area. In her letter Mrs. Fraser said that she wouldn't be returning to Lisburn to do further business in the city following her experience.
However McCalls, who say that parking is an issue they constantly hear about from their customers, decided they didn't want a visitor to have such an unhappy experience of shopping here.
One member of the family business, Mark McCall, said: "This brought a few things to a head for us.
We are hearing day in and day out from customers about parking and something needs to be done.
"We were upset to learn about Mrs. Fraser's fine. When we contacted her she bad paid her fine, but we have sent her a £50 gift voucher, which gives her some money to spend and will hopefully bring her back to Lisburn.
"We spend a lot of money on marketing each year and we have customers from all over the province. The Council and City Centre Marketing spend thousands each year on marketing and they have an excellent Christmas campaign running at the moment. Unfortunately when we've stories like this it won't encourage people to come to Lisburn.
"Parking issues are the number one thing we hear from customers. A little common sense would go a long way to improving things.
"This lady said she was aware of the warden watching her from across the street and six minutes later she got a £30 fine. Why couldn't wardens be encouraged to go up to the motorist and give them the opportunity to buy a ticket, especially when it's a genuine mistake?
"There is some talk of wardens getting a training course in customer service and I think this is badly needed," he added. "I hear on a daily basis from customers saying, 'I have to go, I've only got five minutes left on my ticket'. People may be just a couple of minutes over their time and they come back to a £30 fine. There is no common sense to how it's handled and it's all quite aggressive.
"I have heard the traffic wardens cost more than the income from on-street parking bays in the city, meaning Lisburn ratepayers are funding this programme. This was certainly something we were told at a meeting we attended and I would like to know if this is still the case?" Mr McCall asked.
Whilst the situation is not all negative, Mr McCall said that the negatives need to be heard in order to do something about them or people will be driven away from the city. "We need to make a change to bring people back to Lisburn," be added.
stacey.heaney@ulsterstar.co.uk
Ulster Star
25/11/2011