Memorial service to honour fallen Lisburn soldier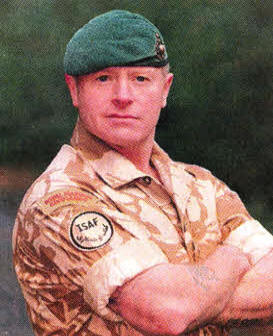 Corporal Stephen Walker, who was killed whilst on duty in Afghanistan last May
A MEMORIAL service will be held this weekend to remember Lisburn soldier Corporal Stephen Walker, who was killed on duty in Afghanistan last year.
The service, which is being organised by Corporal Walker's brother Ian, will be held on Sunday May 22 at 3pm in Christ Church in Lisburn.
VIP guests will be invited, however the service will be open for members of the public to pay their respects to Lisburn's fallen son. Corporal Walker, who served with 40 Commando Royal Marines, was known as Whiskey to his comrades. He was killed in an explosion near Patrol Base Almas, in Sangin, Helmand province on May 21 last year. He was conducting a joint foot patrol with the Afghan National Army at the time.
Corporal Walker, who was 43, lived in Exmouth with his wife, Leona and their daughter, Greer, and was also a proud father to his son, Samuel. At the time of his death his wife described him as a 'fantastic dad' and her 'perfect soulmate'.
He originally joined the Royal Navy in 1986, qualifying as a cook and serving at HMS Raleigh, HMS Cochrane and on board HMS Cleopatra.
He subsequently transferred to the Royal Marines, entering Recruit Training at the Commando Training Centre Royal Marines in 1990, passing for duty on 7 November that year. During his 20 year career he served across the broad spectrum of Royal Marine Units including; Fleet Protection Group Royal Marines, 40 and 45 Commando Royal Marines and the Commando Training Centre Royal Marines as a Recruit Troop Instructor.
Corporal Walker is remembered as a hero by those who knew and loved him, with one comrade, Marine Wayne Gately, whose life was saved by the Lisburn soldier, saying: "Many of us owe a lot to Whiskey, he was a legend and we miss him more than words can say."
Speaking after his funeral last year, Corporal Walker's brother, Ian, who still lives in Lisburn, said: "He always wore a Northern Ireland shirt and he was very proud of where he came from. He was proud to be from Lisburn. Lisburn was always his home.
"He was a smashing bloke, he was a fantastic brother and a fantastic uncle to Kyle and Ross, he was their hero. I am really, really proud of him."
Ulster Star
20/11/2011