Council launches trade mission to Eastern Europe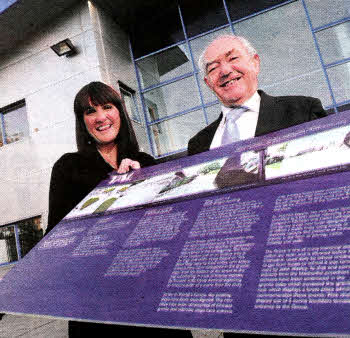 Caroline Eccles from TAL Civil Engineering Limited with Alderman Jim Dillon, Chairman of the Council's Economic Development Committee promoting the Central and Eastern Europe Trade Development Programme.
LISBURN City Council will be launching its seventh trade mission to Central and Eastern Europe at a breakfast seminar being hosted in Lagan Valley Island this December.
To date the Council has assisted local businesses explore new opportunities in Poland, Bulgaria, Romania, Czech Republic, Slovakia, Hungary, Estonia and Slovenia.
The programme is targeted at local business owners and managers who wish to be equipped with the relevant in-depth knowledge, know-how and confidence to successfully operate in this market.
If you are the owner or manager of a local business and are interested in this opportunity you can register to attend a workshop on December 8 in the Cherry Room at Lagan Valley Island beginning at 8.30am.
Alderman Jim Dillon, Chairman of the Economic Development Committee, said: "The Council appreciates that all Lisburn-based businesses are being challenged in the current economic climate to find new customers both locally and globally.
"To assist such businesses the Council has identified the Central and Eastern European marketplace as a focus for potential new trade development activity.
"Through the programme the aim is to assist local businesses to capture some of the 1.1 billion population market size across these countries; and to help them realise sales that will help them through the economic downturn. Due to the Council's substantial contribution each participating business will only be required to pay £500 (ex. VAT) including flights and accommodation," he concluded. The programme is jointly funded by Lisburn City Council and the EU Sustainable Competitiveness Programme for NI 2007-2013; and it is being delivered and managed by Lestas Consulting.
Caroline Eccles of TAL Civil Engineering Ltd said: "This year TAL Civil Engineering took its first steps into the Central and Eastern European market with tbe support of Lisburn City Council. During a Council organised visit to Bulgaria we laid the foundations for future trade and forged pivotal alliances and partnerships within the marketplace. The Council's support and direction throughout was invaluable and for that our company is very tbankful as in difficult times within the construction industry at home the future looks bright for TAL."
The programme is now open for recruitment and if you are a Lisburn-based business interested in finding out further information please contact Michelle Lestas on 7032 2900 or email: manager@lestasconsulting.com
Ulster Star
02/12/2011