Cashing in on Cracker Christmas
by JULIE-ANN SPENCE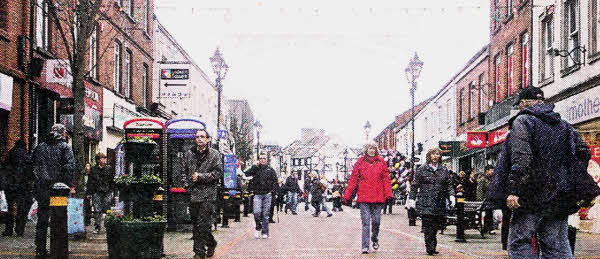 Lisburn traders enjoyed a Christmas spending spree this year.
DESPITE the prevailing economic doom and gloom, Lisburn was buzzing throughout the festive season with many retailers reporting a steady trade this year.
Following a year of financial uncertainty, there had been concert that local people would be tightening their belts by keeping a firm grit on the purse strings. However, early indications seem to show that the Christmas spending spree has been good for many local shops.
Early sales seem to have booster trade, with the Bow Street Mal reporting a "steady flow" of shoppers on Boxing Day and a "very, very busy' day on Tuesday (December 27).
It is thought a number of factors contributed to the upturn, including the mild weather and the decision of the Roads Minister, Conor Murphy to provide free on-street parking in the city centre in the run up to Christmas.
The Chairman of Lisburn City Centre Management, Alderman Allan Ewart said they were pleased that figures were up on last year.
"Having spoken to many traders over the Christmas period, they were pleased to report that sales had been good and figures were up on previous years," said Mr Ewart. "This is good news for Lisburn. "Following difficult trading conditions in 2011. can I commend the traders for their resilience, and trust 2012 will be the start of an improvement in economic conditions.
"During this period Lisburn City Centre Management had lobbied the Minister of Regional Development to relax on street car parking charges and I trust this had a positive influence and brought more customers to the city.
"I wish the traders on behalf of Lisburn City Centre Management a prosperous 2012," he concluded.
julieann.spence@ulsterstar.co.uk
Ulster Star
30/12/2011