Factory extension creates 30 new jobs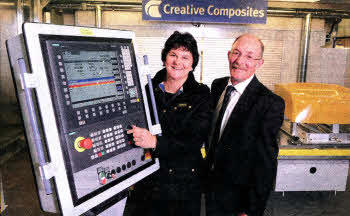 Enterprise Minister Arlene Foster with Roy Kelly, Managing Director, Creative Composites, at the official opening of the company's new factory extension at its plant in Lisburn. The Minister also announced that the company has created 30 new jobs. Picture: Michael Cooper
ENTERPRISE Minister Arlene Foster has officially opened Creative Composites' new factory extension in Lisburn, and announced that the company has created 30 new jobs.
Creative Composites specialises in the design, manufacture and assembly of high quality composite components for a diverse range of industries and currently employs 136.
Invest Northern Ireland offered £84,000 of support for 21 of the new jobs through its Jobs Fund, which aims to stimulate job creation in response to the challenges of the global economic downturn.
At the opening ceremony the Minister said: "Creative Composites is an important player in our advanced manufacturing sector, as it is developing innovative products for a range of applications in the forklift truck, bus and coach, automotive, construction, vending and other manufacturing sectors.
"Like every other business, Creative Composites has been affected by the global recession. However, it responded to the downturn in a prompt and prudent manner, adjusting its business model, implementing operational efficiencies and investing in identifying new product opportunities and new customers."
Mrs. Foster added: "This new facility and the rapid recruitment of 30 staff is a result of that focused approach and will allow the company to strengthen further its position in the local market and increase its export potential. Invest Northern Ireland's Jobs Fund provided timely support, ensuring that new jobs were put in place as quickly as possible to benefit both the company and the wider economy.
"This success demonstrates how the wider Boosting Business initiative can help firms to manage their way through challenging economic conditions."
Creative Composites counts several major blue chip companies among its clients, including the technical teams of global forklift truck manufacturers and world famous sports car brands.
Roy Kelly, Creative Composites Managing Director, said: "At Creative Composites, we have a record of investing in our facilities, in our staff and in our research and development capability, making us the most advanced manufacturer of composite components in the UK. This latest investment will allow us to continue to deliver technical innovation, world class manufacturing and outstanding customer service."
julieann.spence@ulsterstar.co.uk
Ulster Star
21/10/2011