Damask Community Outreach launched in East Lisburn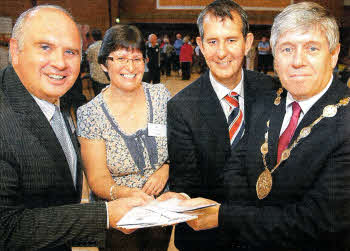 Rev Brian Anderson and Jane Dawson, from Seymour Street Methodist Church, with Health Minister Edwin Poots and Lisburn Mayor Brian Heading at the launch of the church's Damask community outreach program. The project will offer a number of activities including health advice, a parent and toddler group and computer training. US3911-515cd
AFTER months of planning Damask Community Outreach project, which aims to help the community in the East Lisburn area, was formally launched at Seymour Street Methodist Church on Saturday.
The launch follows a period of detailed consultation with local and statutory agencies and completion of a survey in the area to determine current community needs.
The launch event included a Health & Advice Fair with a number of organisations participating including Citizens Advice Bureau, Safe & Well Project, Ulster Cancer Foundation, Chest, Heart & Stroke, Cruse Bereavement Care, Aware Defeat Depression, Alzheimer's Society, South Eastern Health & Social Care Trust, Dept. Social Development Benefits Outreach Team, CAB Money Active, Community Safety Partnership, FIT NI Computer Training, Students Working Overseas Trust.
Members of the Seymour Street congregation mingled with the Mayor Cllr Brian Heading and
public representatives together with leaders of these organisations and the local community who attended.
Health Minister Edwin Poots, who formally launched the event, referred to the special contribution the Seymour Street Church had made to the community over many years and said it was true to its ethos in presenting a social action programme.
The Minister went on to acknowledge the work of the various groups with whom Damask are partnering and said they were contributing a lot to the health and well-being of many communities throughout the country.
In congratulating all involved Mr Poots said this was a great example of local Agencies, Trusts
and the Community groups working together to improve the lives of those around them.
The Minister was welcomed by Damask Chairman, the Rev Brian Anderson, who said it was a special milestone in the journey to serve the community through Damask and paid tribute to the many volunteers who had undertaken the arrangements to date.
Ulster Star
30/09/2011