Dentists 'bitten' by the running bug after successful cancer fight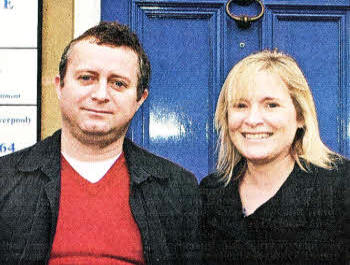 LOCAL dentists Darren and Sarah Pinkerton have been bitten by the running bug - and the pair will be side by side when they take part in the Virgin London Marathon in April.
The husband and wife team, who are in practice together at Manor Drive Dental Practice in Lisburn, signed up to support Bowel & Cancer Research after Darren beat bowel cancer last year.
"Having gone through the last 12 months I've become very thankful for the life that has been given back to me and I intend to make the most of it," said Darren.
Darren was told he had cancer in November 2009, underwent radiotherapy in early 2010 and surgery in April at the Ulster Hospital in Dundonald.
"I was lucky the diagnosis was early," he said. "I was determined from the start to take it one stage at a time and not to be negative when there was no reason to be. Now I am feeling really good."
The London Marathon on Sunday April 17 will be his first. "If I can get round in about 5 hours I'll be very pleased," said Darren who has two sons Jake, 8, and Owen, 6.
Having his wife as a training buddy is an added bonus. Sarah ran the London Marathon for Scope and the Great North Run in 2009 but Darren was unable to join her.
"This time the motivation is a little closer to home," said Sarah. "Myself and our two boys are very proud of the way Darren has coped with his illness and stayed positive and I'm really pleased to have the opportunity to give something back to the people who treated him and saved his life."
Darren and Sarah hope to raise £4,000 by running the marathon and the family started fundraising on his 40th birthday.
They celebrated with a party at home and raised £500 for Bowel & Cancer Research.
"We put a bucket in the hallway for people to throw money in and they were all very generous," said Darren, from Aldergrove.
Darren, the Pipe Major of Ballydonaghy Pipe Band, also played on New Year's Eve at the Furama restaurant in Antrim where the managers donated another £100.
A spokeswoman for Bowel & Cancer Research thanked Darren and Sarah for their efforts. "Bowel cancer claims the lives of 16,000 people in the UK every year. Our aim is to reduce that number, and the support of people like Darren and Sarah is invaluable," she said.
Anyone who wants to support Darren and Sarah can do so by going to www.justgiving.com/DARREN-PINKERTON and www.justgiving.com/Sarah-Pinkerton
Ulster Star
04/02/2011