Fashion designer shows off his work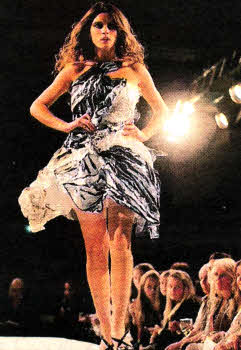 One of Dave Henderson's collections shown on the catwalk.
ANYONE who loves Vivienne Westwood's work would have been impressed with a Lisburn fashion designers collection shown at the recent Belfast Fashionweek.
Local man Dave Henderson, a UU Textiles and Fashion graduate, was inspired by medieval armour and influenced by Brothers Grimm creating kooky, prom dresses with black perspex.
They ranged from tie-dyed and splash-print fabrics in unstructured and asymmetrical shapes and styles cleverly laid over lace-up corset bodices.
He even used a mixture of water and glue to stiffen material to give it a desired shape and form.
After hand-painting and dyeing the fabric, and leaving it to dry it resulted in a number of individual sculptural pieces.
"I specialised in print design for fashion development, working on prints then fabrics. I'd never made dresses before, so I actually had to teach myself how to sew for the annual end-of-year student fashion show," explains Dave.
"I worked by pinning the fabric on the mannequin, using different colours and laser cut materials, such as leatherette and 3D forms."
Daves designs will be on sale at Proof Boutique - Grainne Maher's new pop-up shop on Jameson Street just off the Ormeau Road. Fashionweek director Cathy Martin paid tribute to everyone's hard work to make the event a success. "Our designers, make-up artists and hairdressing teams worked flat out to give audience members a night to remember, with some truly inspirational work on show," she said.
"They did themselves and their talents proud and we would like to congratulate them all on a job well done."
Ulster Star
28/10/2011