David helps to build a better future in Romania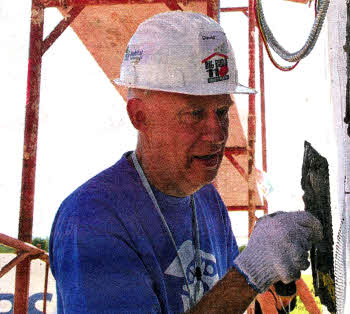 David Flinn
ANAHILT: David Flinn from Anahilt was among volunteers from across Northern Ireland who were building big in Romania last week; helping to nail poverty housing by working alongside families in need to build 10 homes.
David joined the week long build which was launched on Monday 3rd October, with the first day of building coinciding with World Habitat Day 2011, a day designated by the UN to draw worldwide attention to the dire need for shelter and of our collective responsibility for the future of human habitat.
Over the course of just one week the Big Build mission delivered decent, affordable shelter to 10 families who have lived in and suffered the consequences of poverty housing for decades.
On his return David was tired but delighted he had taken the time to transform lives.
"It is a real privilege to have taken part in the Big Build" he said. "Building alongside families in need, seeing firsthand the impact of our support and knowing that we were building hope as well as a home makes it an unforgettable experience."
The Big Build project was first launched in 2009 and was again made possible by communities from across Northern Ireland who donated time and money to supporting the diverse team of Big Builders — which includes church groups, tradesmen, individuals and corporate organisations.
Habitat Northern Ireland's Chief Executive, Jenny Williams, who worked alongside the team in Romania, said:
"Today more than ever vulnerable families around the world are struggling. Big Build is part of our long term commitment to the programme in Romania, which is focused especially on supporting marginalised groups including orphans and the Roma community. Big Build was only possible thanks to the support of the people of County Down."
Every year hundreds of volunteers travel in support of Habitat NI's global partnership programmes building homes for families in need worldwide.
If you would be interested in volunteering with Habitat's Global Village programme in 2012 come along to an information evening on 24th November, venue to be confirmed. Contact Jan Lindsay on 028 9024 3686 for further information or visit www.habitatni.co.uk
Ulster Star
21/10/2011