David takes on new long distance challenge for Meningitis Trust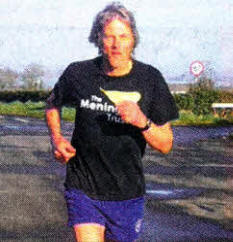 A CRUMLIN man who has already run the length of Britain and completed a circuit of Lough Neagh in just one day is getting ready for yet another challenge to help raise money for Meningitrs Trust.
David Flowerday (57), (pictured) from Largy Road, will cover 40 miles this Saturday to raise money for the charity by running 25 laps of 1.64 miles at Loughshore, Antrim.
David, himself a meningitis survivor and a firm supporter of Meningitis Trust, completed 'one man, one lough, one day' earlier this year when he ran around Lough Neagh in a day covering 86 miles. In 2010, he took part in a 16 day run from Lands End to John O'Groats and has completed other super distance events including a run at Bow Street Mall on a treadmill. This time he hopes to complete the run in just seven hours.
David explained: "The total distance will be 41 miles. The lap will start at Loughshore car park and go clockwise up the Lough Road as far as the play park, then take a left by the Antrim Forum car park and follow the Sixmilewater towpath downstream back to the start. Each lap should take 16 or 17 minutes, so I should be finished by about 6.00pm."
David was just three-months-old when he was diagnosed with meningococcal meningitis, a deadly strain of the virus.
He spent 19 days in an isolation ward in Purdysburn Fever Hospital in December 1954 at a time when the condition was considered so contagious that when he was diagnosed at the Children's Hospital, he had to travel by car to Purdysburn as the hospital would not allow their ambulances to carry patients with meningitis. David made an full recovery with no side effects.
Kelly Shaw, Community Development Officer for Northern Ireland for the Meningitis Trust, said: "David is a fantastic supporter of the Trust. He is always fundraising, so far he has raised £7,000, helping at collections and taking part in events. He is one of our many dedicated supporters who want to support those living with the impact of meningitis. We hope that the local people will come out and support him during the day."
Ulster Star
09/02/2011