David is crowned 'Most Innovative Teacher'
by STACEY HEANEY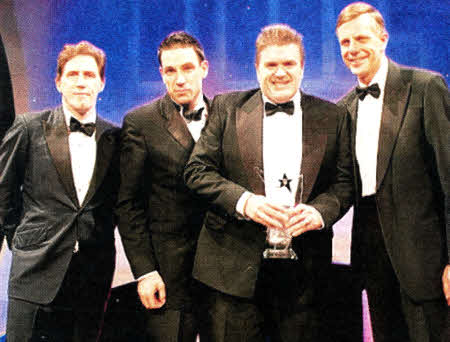 David Gibson, (second right) receives his award for Most Innovative Teacher at the Times Higher Education Awards. Also pictured are (L-R) Rob Brydon, Paul Ramsden, judge and former head of the Higher Education Academy and Queen's Vice-Chancellor Professor Sir Peter Gregson.
LISBURN man David Gibson, a Senior Teaching Fellow in the Queen's University Management School, has scooped a prestigious national award after being named Most Innovative Teacher of the Year.
The enterprising academic from Queen's University Management School, whose work has inspired 30,000 students across Europe, received the accolade at the recent Times Higher Education (THE) awards in London.
Imagination
The award recognises the academic whose imagination and passion have transformed a course and inspired students.
David said: Emloyers often complain that graduates struggle in the cut-and-thrust of commerce because they lack an entrepreneurial spirit and business skills.
"I wanted to change that perception by establishing a project to give 'enterprise for life' skills to all non-business students"
"In 2003 David introduced a new curriculum-based Certificate in Entrepreneurship Studies at Queen's University Belfast.
His unique teaching model, called 'venture-based learning', allowed students to develop real-life business and social enterprises, and to reflect and learn from their success or failure.
For example, history students were assessed on their ability to develop sustainable social enterprises for heritage sites in Ireland, while nurses were asked to create products to solve health problems.
More than 30,000 students have participated in the scheme since 2003 and it has now been rolled out across more than 200 universities worldwide.
Acclaim
Earlier this year it was adopted by the European Training Foundation to enhance the employability of graduates across the European Union.
The programme has gained further acclaim in the US where David was named the world's 'number one' enterprise educator by the United States Association of Small Business and Entrepreneurship in 2010/2011.
Congratulating Mr Gibson, Queen's Vice-Chancellor Professor Sir Peter Gregson said: "This honour recognises the vital work which David and his colleagues carry out to nurture entrepreneurial skills among all our students, and builds upon his award earlier in the year as Global Entrepreneurship Educator.
Diverse
"Enterprise education is now embedded in 116 pathways across all academic disciplines, reaching 11,000 students across the University, and has led to over 1,100 students directly engaging in business activity."
Judge Paul Ramsden, former head of the Higher Education Academy said: "David has made enterprise studies into a reality for over 30,000 students in subjects as diverse as history and physics.
"His strong focus on student engagement, his genuine cross-discipline approach and his groundbreaking model of venture-based learning have had an impact not only locally but also in universities across the world," he concluded.
stacey.heaney@ulsterstar.co.uk
Ulster Star
30/12/2011