Mind reader with nothing to hide comes to Lisburn
by JULIE-ANN SPENCE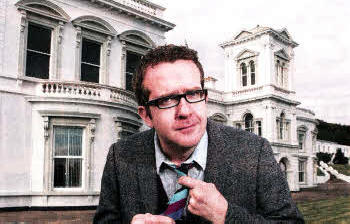 David Meade
WHEN you watch his show, you might be convinced that David Meade does indeed have psychic skills. Apart from one thing - he's the one telling you he hasn't.
Following hot on the heels of his recent success with his BBC TV series 'The David Meade Project', the 'mind reader' will be putting his skills to the test in from of a local audience when he visits Lisburn's Island Arts Centre next month.
But David, who lives in Banbridge, is not a psychic, he's not a medium and he definitely doesn't speak to the 'other side'.
But it was a fascination with the spiritual realm that set this academic on road that has led him to stun audiences across the world with his 'mind reading' skills.
"My dad died when I was 14 and it was really sudden for me," explained David, who is also a lecturer at the University of Ulster. "I decided in my silly wisdom that I would go to a psychic. I travelled quite a long way and it was absolutely amazing how accurate she was. I was in no doubt that she was in connection with my dad.
"I went to her for nearly 18 months. Every reading got a little bit more expensive and the last reading was nearly £100. I didn't have the money and felt she was just saying the same thing and that it had run its course. It was like a type of counselling for me and it helped me to talk things through.
"I went the last time when I was 16 and I said that I didn't really have the money and wouldn't be coming back. She told me to come up with two goals for the reading, to keep them secret and then I would know if it was all true of not.
"She left the room and I wrote down a couple of things. I asked 'who got the watch?' and 'what piece of furniture was broken after the funeral?' I thought if she got it right it would be amazing.
Suddenly I was overcome with skepticism and I flicked through the notepad she had given me and there was carbon paper a few sheets down that had taken a copy of what I had written.
"I was devastated. I was three buses from home, no-one knew where I was and I was terrified. I didn't say anything but I wrote down two names - Catherine and Sofie. The names mean absolutely nothing to me and I chose them because there is no-one in the world connected to me with either of those names.
"She started into the reading and said the names. I suddenly realised I had to get out. I came away feeling really heartbroken but when I had time to reflect on it, I decided it was still a good experience."
And it was that first experience that captured David's imagination. He has been going to psychics ever since but now he watches to see how they do what they do and he uses the same skills in his live show.
"I started to go to more of them. I go to two or three a month. I go to see how they are doing what they are doing and employ the same techniques. I use exactly the same skill set.
"I have seen nearly 100 and I keep track of them," he continued. "There is the conscious deceiver who is trying to make you believe they are talking to the dead when they know they are not. They are praying on the emotions of vulnerable people and their financial stability.
"There is a second category - the 'shut eye'. They don't know that they are not psychic. They genuinely believe they have a genuine gift but in actual fact they are just good guessers. You can always tell those who are 'shut eyes' because they take almost no money or any at all.
There are times when I can see that people know that they are not psychic. Every person I have met who knows they are not psychic uses the line that someone is clutching their chest. If the person says 'no' then they say 'you should speak to their doctor because something happened to their heart at the end'. That is a terrible thing to say to people.
"I use similar techniques but because I am being honest about my dishonesty, I can be more accurate. Some psychics use body language but don't want people to know. I tell people that I am judging them so I can be more accurate."
David's show is light-hearted and fun-filled. "It is really funny," he explained. "It's a great night's craic. It's not dark or mysterious, it's fun and very interactive.
"I always teach one person in the audience how to be a mind reader and in the second half of the show I recreate my first psychic reading and explain how I was cheated and how they do it."
If you think you can fool David you can challenge him during the live show and could even walk away with some money at the end of the night. "I play a liar's game and anyone who thinks they can lie to me successfully could win £1000. I do about 200 shows a year and I have had to pay out once. I love it, it's great. It stops me being complacent and I take it more seriously the next time."
The Lisburn audience can also look forward to something special at the Island. "For the Lisburn show there is something I will be trying for the very first time and I am very nervous about it," said David, who was keeping tight-lipped about the details.
David Meade will be taking to the stage at the Island Arts Centre on Friday October 7 and tickets are on sale now from the Box Office on 9250 9254.
The Star has two pairs of tickets to giveaway for the Lisburn show. If you would like to be in with a chance of winning, answer this question:' What was the title of David Meade's recent BBC TV show?' Send your answer, together with name, address and daytime telephone number to David Meade Competition, Ulster Star, 12A Bow Street, Lisburn, BT28 1BN. Alternatively, email your answer and contact details to julieann.spence@ulsterstar.co.uk. The closing date for entries is Friday September 30 and the winners will be contacted by Tuesday October 4.
julieann.spence@ulsterstar.co.uk
Ulster Star
23/09/2011