Derriaghy PS loses the battle for survival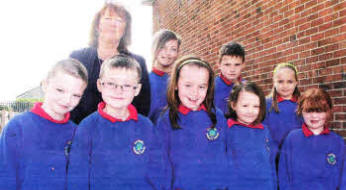 Derriaghy Primary School Principal Mrs Gladys Topping with children at the School. US1910-110A0
ONE of Lisburn's oldest schools is to close after the the Education Minister this week approved a development proposal for the closure of Derriaghy Primary.
Caitríona Ruane attributed her decision to declining enrolment but Lagan Valley MP Jeffrey Donaldson said closing the school will "rip the heart out of the local community".
The minister said: "Derriaghy Primary School undoubtedly has strong roots within the local community, having served the Parish since the 19th century. It is with regret that I have had to agree to the closure of this school.
"A decline in enrolments in recent years has given rise to concern. There are currently 40 children on the register for 2010/11, with only two pupils being enrolled in 2009/10 and five in 2010/11."
She continued: "There are other alternative primary schools in the area which have sufficient capacity to offer places to these pupils and I am confident that all those involved, including parents and school staff, will ensure a smooth transition for the children.
I would like to pay tribute to all those connected with Derriaghy Primary School, who over many years, have shown their commitment and dedication to the school and its pupils."
Principal Mrs Gladys Topping said she and the Board of Governors were "deeply saddened" by the news.
Mrs Topping said: "The school is an important part of the community and children will suffer as a result of this action. The important issue of pre-school education for the children in Milltown Estate has not been addressed and the important work being done by Barnardo's for mothers and toddlers is being displaced by this action."
And Mr. Donaldson said the local community had put up a strong fight and presented valid arguments in favour of the school remaining open.
He said closing Derriaghy Primary will "rip the heart out of the local community".
Mr. Donaldson said he will be talking to the SEELB to see if the building can be used to benefit the community in the future but added any new services to replace the loss of the school would be no substitute for the local primary.
Ulster Star
07/01/2011